Beltre hits game-winning HR as Rangers top A's 7-6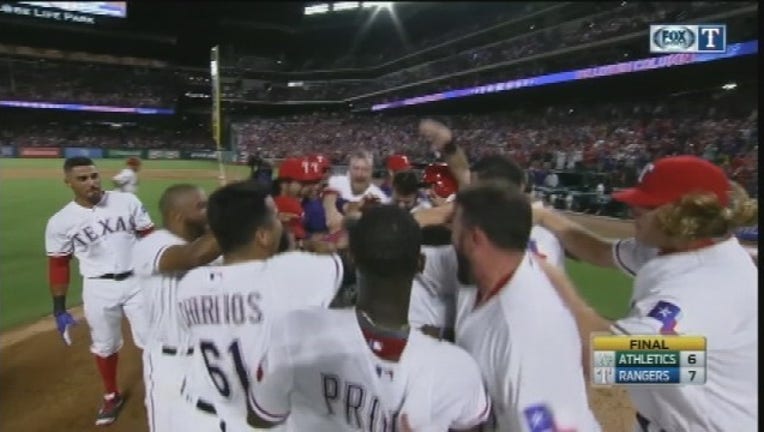 article
ARLINGTON, Texas (AP) — Ryan Madson felt good facing Adrian Beltre with two outs in the ninth inning Monday night. Perhaps too good.
Beltre hit Madson's first pitch into the left-center field bullpen, turning the Oakland Athletics' one-run lead into a 7-6 loss to the Texas Rangers.
"A good fastball-hitting guy, sitting fastball," Madson said. "Maybe I was being a little bullheaded, trying to beat him instead of putting it in a good place.
"The heater I had for the last whole week, I was confident in it. It just happened to end up middle-middle to a fastball-hitting guy. That's not where I was aiming."
Madson had saves in his first four opportunities after the All-Star break, helping Oakland to a 7-3 record.
"He's a really good pitcher, really good changeup," Beltre said. "I was hoping that he would throw me something over the plate that I could drive, and that's exactly what he did."
The Athletics had led since the first inning, when Danny Valencia hit a two-run homer.
Oakland stretched its lead to 5-1 before Texas started coming back. Beltre, who singled in his first two at-bats, pulled the Rangers to 6-5 with his first homer of the game in the seventh inning.
Madson (3-4) ended up with his sixth blown save in 27 opportunities.
"The worst part is not about me, it's about the team," he said. "They played a great game; they deserved to win that game."
All 13 runs scored with two outs.
Valencia had the first of three RBI doubles in a three-run third that gave the A's a 5-1 lead.
"Whenever you get up in that batter's box, you want to do a good job," Valencia said, "regardless of whether there's no outs or two outs. Obviously, two-out knocks are a huge blow to the other side. We did a pretty good job tonight of hitting with two outs. We strung together a lot of quality at-bats."
Ian Desmond hit his 19th homer for the Rangers in the first.
Nomar Mazara singled with one out in the ninth. Pinch-runner Ryan Rua scored ahead of Beltre on his game-winning homer.
Jake Diekman (2-1) worked a scoreless inning for the win.
Billy Butler had three hits for the A's.
Jed Lowrie led off the third with a double. Valencia, Khris Davis and Butler followed with run-scoring doubles.
Josh Reddick singled to drive in an unearned run against Matt Bush in the seventh before Beltre homered in bottom half.
The teams have split the first eight games in the season series.
MUNCY UP, HAHN DOWN
A day after RHP Jesse Hahn allowed one run in 7 2/3 innings against Tampa Bay, Oakland optioned him back to Triple-A Nashville. The Athletics also recalled OF/1B Max Muncy from Nashville, where he batted .251 with eight home runs and 26 RBIs in 64 games. Muncy ran for Butler in the eighth inning.
DARVISH PREPS
Rangers RHP Yu Darvish threw in the bullpen in preparation for Wednesday's scheduled start against Oakland, his third since coming off the disabled list for the second time this season.
TRAINER'S ROOM
Athletics: No one went on the disabled list Monday, the 21st day this season that Oakland had 12 or more players on the DL. A's players have missed a total of 966 games.
Rangers: GM Jon Daniels said he expects DH Prince Fielder to undergo season-ending surgery to repair a herniated disk in his neck within a week. . Halfway through the minimum stay on the 60-day disabled list, RHP Colby Lewis (strained right lat muscle) threw from 75 feet. "He's about where we though he would be at this point," manager Jeff Banister said.
UP NEXT
Athletics: RHP Sonny Gray (4-9, 5.49 ERA) will start the second game of the series Tuesday.
Rangers: RHP Nick Martinez (1-2, 6.45), scratched from Monday's scheduled start at Triple-A Round Rock, will be recalled to start Tuesday's game.