Beltran and Lucroy hitless, Bundy helps Orioles beat Rangers 5-1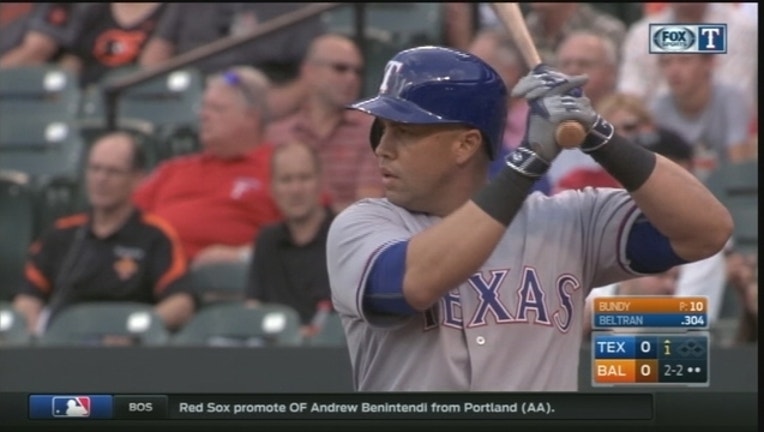 article
BALTIMORE (AP) — Dylan Bundy wasn't going to go past the seventh inning, no matter what.
So, quite unintentionally, the rookie gave up a hit to make life easier for manager Buck Showalter.
Bundy took a no-hitter into the sixth inning for the second game in a row, Pedro Alvarez hit two of Baltimore's four solo homers and the Orioles beat the Texas Rangers 5-1 on Tuesday night in a duel between AL division leaders.
Making his fourth career start, Bundy allowed one hit and a walk over seven sparkling innings against a potent lineup featuring newcomers Carlos Beltran and Jonathan Lucroy.
Bundy (4-3) retired the first 10 batters before issuing a fourth-inning walk to Ian Desmond, who was thrown out trying to steal as Beltran struck out. Elvis Andrus ended the rookie's no-hit bid with a clean line drive up the middle with two outs in the sixth.
"The seventh was his last inning, regardless," Showalter said. "That was a pretty good progression for him. He almost got through the sixth inning last time."
In his previous outing, Bundy — the fourth overall pick in the 2011 draft — retired the first 16 batters against Colorado before giving up three runs in the sixth.
This time, Bundy capped his outing with a 1-2-3 seventh — the farthest he's gone in the majors.
"I knew that was it for him," Showalter said. "Usually, people stay away from the pitcher during no-hitters, but all the coaches were staying away from me. They were afraid I was going to ask what they thought."
Facing the team with the AL's best record, Bundy struck out seven and didn't allow a runner past first base.
What else can the right-hander accomplish?
"Mainly, just getting deeper in games and getting my arm built up," Bundy said. "Still got to go above 90 (pitches)."
Bundy is not yet a finished product, but he's getting there.
"He threw the ball really well," Desmond said. "He's stingy. Didn't miss over the plate to me much."
Texas closed to 4-1 in the eighth against Brad Brach before Darren O'Day struck out Desmond with the bases loaded and two outs. O'Day came back in the ninth to earn his third save.
It was the second consecutive win for the Orioles following a five-game skid that temporarily dropped them out of first place in the AL East.
Bundy outpitched Yu Darvish (2-3), who allowed three homers for only the second time in 90 major league appearances. Alvarez connected in the fifth and seventh innings, and Adam Jones went deep on an 0-2 pitch in the sixth.
Darvish was pulled after Alvarez's second homer made it 3-0, and Matt Wieters greeted reliever Dario Alvarez with a shot to right.
Facing the Orioles for the first time since taking the loss in the 2012 wild-card game, Darvish gave up three runs and struck out nine in his seventh start since coming off the disabled list.
"He made progress, in my opinion, on how he threw the baseball, how he competed and just how he attacked the strike zone," manager Jeff Banister said. "He had to pitch almost flawless with what Bundy was doing."
The loss snapped the AL West-leading Rangers' four-game winning streak. Playing with Texas for the first time since being obtained Monday in separate trades, Beltran went 0 for 4 with two strikeouts and Lucroy was hitless with a walk but scored the Rangers' lone run.
MILESTONES
Rangers: Texas' run of 14 straight games with a HR ended.
Orioles: It was Showalter's 518th win as Orioles manager, lifting him out of a tie with Paul Richards and into sole possession of second place on the team's career list. Earl Weaver is the leader with 1,480.
TRAINER'S ROOM
Rangers: OF Shin-Soo Choo (lower back inflammation) is getting close to coming off the disabled list, Banister said.
UP NEXT
Rangers: Cole Hamels (12-2, 2.84 ERA) starts the second game of the series Wednesday. He's 3-0 with an 0.84 ERA since the All-Star break.
Orioles: Kevin Gausman (2-8, 4.18) has won only two of 18 starts this season and lost his only career appearance against Texas.