Baylor pulls off 80-64 upset over No. 10 Kansas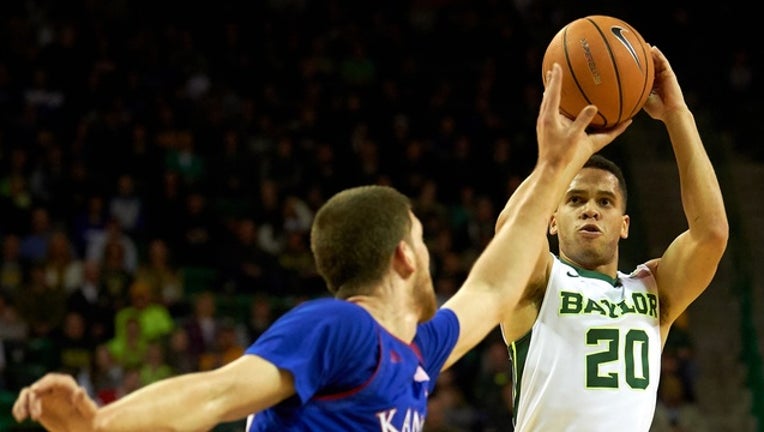 article
WACO, Texas (AP) - Manu Lecomte scored eight straight points for Baylor after No. 10 and Big 12 co-leader Kansas had pulled within a basket, and the senior guard finished with 18 overall in the Bears' 80-64 upset victory Saturday.
The Jayhawks (19-6, 8-4 Big 12) trailed 30-20 at halftime after having more turnovers (nine) than made field goals (seven) before the break. They were down by as many as 13 points after that but got within 58-56 with 7:14 left after consecutive jumpers by Lagerald Vick.
Lecomte then made a jumper for Baylor (15-10, 5-7) with 6:50 left. About a minute later he took a long 3-pointer, and was slowly stepping backward watching the shot go in the basket. He then added another from long range and the Bears maintained control.
Jo Lual-Acuil had 19 points to lead Baylor, which has won three straight after a four-game losing streak. Numi Omot scored 17 and Jake Lindsey 11. Mark Vital had 11 rebounds.
Devonte Graham had 14 of his 23 points after halftime for Kansas, while Malik Newman finished with 20.
BIG PICTURE
The last time Kansas has 20 or less points in a half was three years ago at Baylor, when the Jayhawks trailed 22-18 at the break. They came back to win that game 56-55. They made a big push for another comeback, but ran out of steam and quit making shots after cutting the gap to two points. They finished with their lowest-scoring game of the season.
Baylor ended an 11-game losing streak in the series against the Jayhawks, including a 70-67 loss in Lawrence on January 20. The Bears need to keep winning games to get back in position for an NCAA Tournament berth that looked like it might be slipping away when they lost six of seven to end January.
UP NEXT
Kansas is on the road again Tuesday night at Iowa State before consecutive home games against No. 19 West Virginia and No. 17 Oklahoma.
Baylor has a quick turnaround and a short trip, about 100 miles down I-35, to play at Texas on Monday night.
___
More AP college basketball: https://collegebasketball.ap.org and https://twitter.com/AP_Top25