Baylor heads to Oklahoma City, site of both cheers and tears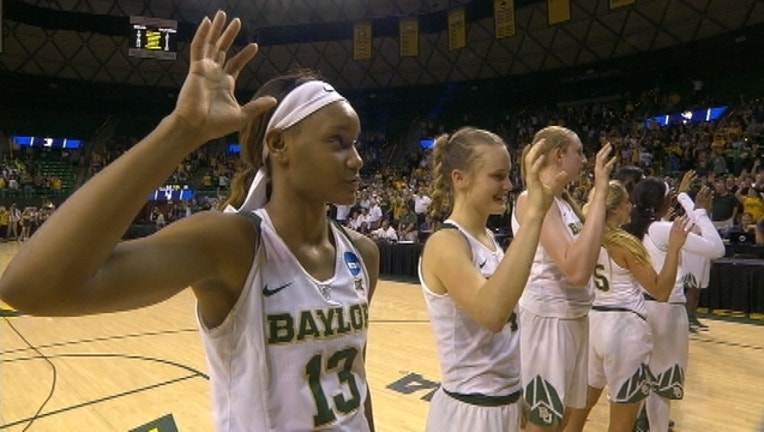 WACO, Texas (AP) - Baylor left Oklahoma City two weeks ago after a rare loss in the Big 12 Tournament. Two years ago, their season ended after losing an NCAA Elite Eight game in the same building.
The Lady Bears, the top seed in the Oklahoma City Regional, are now headed back to the arena less than 300 miles from their Waco campus to play Louisville in an NCAA Sweet 16 rematch Friday night.
"We've shed plenty of tears there, but we've also celebrated in confetti there," senior forward Nina Davis said. "We're not really worried about the location where we're playing at. We're just worried about our next opponent, which is Louisville, and just focused on us and what we have to do to get to the next round."
Baylor (32-3) is in the Sweet 16 for the ninth year in a row. Each of the last three seasons, spanning a href='https://www.apnews.com/1aa74c24f8ef497d97e864f590def9f6/Last-chance-for-Baylor's-Nina-Davis-to-get-to-Final-Four'Davis' career/a so far, have ended with a loss in the Elite Eight.
After sweeping through to Big 12 Tournament titles at Oklahoma City in 2014 and 2016, the Lady Bears a href='https://www.apnews.com/2b60ac1744924d888cdc8a89059e9145/West-Virginia-tops-No.-2-Baylor-for-Big-12-women's-title'lost March 6 in the tournament final to West Virginia/a. It was the first time in seven years, a span when they have won every Big 12 regular-season title, that they didn't also win the conference tournament.
They have twice played NCAA Tournament games in Oklahoma City - and their season ended there both times. There was an Elite Eight loss to Notre Dame in 2015, two years after getting to the Sweet 16 as defending national champions with All-America players Brittney Griner and Odyssey Sims only to lose to Louisville.
"But that's history," coach Kim Mulkey said. "So now you go to this game, and they're a different team, we're a different team."
Third-seeded Louisville (29-7) is in the Sweet 16 for the seventh time, the third against the Lady Bears. The Cardinals beat Baylor in 2009 and 2013 on way to being national runner-ups to UConn.
"They have great players, we have great players. They're well-coached. I don't know if we are or not, but we'll see. But we'll compete," Mulkey said. "I think we have a size advantage, but really what does that mean at this level? If you can play, you can play."
The Lady Bears are trying to get to their first Final Four since that 40-0 national championship in 2012. With two wins this weekend, they would only have to go about 100 miles from their campus to Dallas for the Final Four.
Baylor won its NCAA opener 119-30 over Texas Southern last Saturday at home, setting NCAA Tournament records for the largest margin of victory and the most points ever scored in a regulation game. That was followed by an 86-46 win over California.
"I thought our depth has surfaced big time in these two playoff games. We knew we had depth. We've seen it all year," Mulkey said. "But you don't know how they're going to produce in the NCAA Tournament."
Six players are averaging double-figure scoring in the NCAA Tournament, and a seventh has 9.0 points a game - all without having to play too many minutes. All 12 players that got into the first two NCAA games recorded points, rebounds and assists.
Baylor's three post players that are at least 6-foot-4 - sophomores Kalani Brown and Beatrice Mompremier, and freshman Lauren Cox - combined for 82 points and 43 rebounds in just 109 minutes of play.
"Our size is young, and I think people tend to forget that," Mulkey said. "I just think the more they can get NCAA experience, the better they get. And then maybe someday they'll win them a national championship here."
___
More AP college basketball at http://collegebasketball.ap.org and https://twitter.com/AP_Top25