Baylor avoids 0-3 Big 12 start with 69-60 win over Texas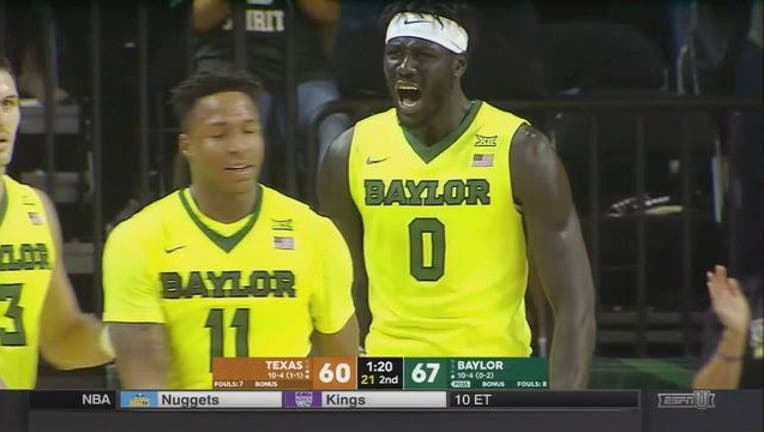 article
WACO, Texas (AP) - Manu Lecomte took the shot, leaned back with both feet on the ground and watched the 3-pointer go through the net that put Baylor ahead to stay.
While the Bears point guard is still struggling with his shot, Lecomte hit that tiebreaking 3 early in the second half after another big long-range shot just before halftime as Baylor beat Texas 69-60 on Saturday to avoid an 0-3 start in Big 12 Conference play.
"Finishing with Manu's 3 at the half was a good way to give us momentum," coach Scott Drew said. "And then at the beginning of the second half, I thought the guys really did a great job coming out and not turning it over, getting back on defense, one-and-done."
Lecomte and Jo Lual-Acuil each had 17 points for the Bears (11-4, 1-2 Big 12). Lecomte, after shooting 4-for-22 in the first two Big 12 games, was 5-of-14 overall against Texas and only 2-of-7 on 3s. But both makes were big.
Baylor got within 40-38 at the break on Lecomte's late 3. The Bears led for good on his other long make just more 3 minutes into the second half.
Jase Febres led Texas (10-5, 1-2) with 18 points, all before halftime including four 3-pointers. Mohamed Bamba had 15 points and nine rebounds.
The Longhorns were within 63-60 when the 6-foot-11 Bamba made a 3-pointer from the top of the key with 5:03 left. They didn't score again, and all of Baylor's points after that came on six free throws.
"The last five minutes, we just came out and we got uptight. We didn't execute at the level we're capable of executing on the offensive end," Bamba said. "We got the stops and we were hoping those would lead into momentum to get a good shot. But it just didn't, and down the stretch, we've just got to execute better."
BIG PICTURE
Texas: The Longhorns missed their last nine shots and 14 of 16, and shot a season-low 34 percent (24 of 70) from the field. Texas was coming off an overtime win at Iowa State after not winning a Big 12 road game all of last season.
"We were able to cut their lead down to 3, and I thought we had a good level of momentum in terms of our competitive spirit and the way our guys were communicating and attacking. We got tentative," coach Shaka Smart said.
Baylor: The Bears haven't started 0-3 in the Big 12 since 2005-06, when they didn't even play a non-conference schedule. It has been four years since Baylor lost three games in a row at any point.
FIRST START
Febres got his first start after sophomore guard Andrew Jones, averaging 13.5 points, remained in Austin because of an illness. Febres missed all five of his shots after halftime.
"Honestly, I just feel like I wasn't going to the open spot," Febres said. "They didn't really do anything that was a lot crazier or anything that was taking me out of my game."
STRIPPED AWAY
Bamba had a steal and pass to Febres with just over 2 minutes left. But Terry Maston, who had just turned it over, stripped the ball out of his hands, was fouled and made two free throws. "Definitely a learning moment. I know I need to be more aggressive," Febres said.
UP NEXT
Texas returns home Wednesday night to play No. 16 TCU, which swept the Longhorns last year.
Baylor plays Tuesday night at No. 6 West Virginia, almost exactly a year after going there 15-0 and losing by 21 points the day after reaching No. 1 in the AP Top 25 poll for the only time in school history.
___
More AP college basketball: http://collegebasketball.ap.org and http://www.twitter.com/AP_Top25