Barnes scores 25, Mavs top Pistons 110-93 in Smith's return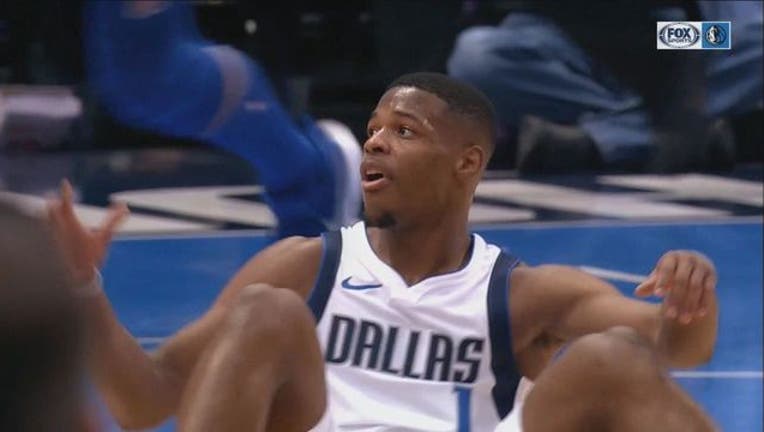 article
DALLAS (AP) - Harrison Barnes scored 25 points, rookie Dennis Smith Jr. had 15 points and five assists in his return from a hip injury and the Dallas Mavericks beat the Detroit Pistons 110-93 Wednesday night.
The Mavericks, last in the Western Conference, won for just the second time in eight games while ending a three-game Detroit winning streak that followed seven straight losses by the Pistons.
Anthony Tolliver led Detroit with a season-high 18 points, going 4 of 6 from 3-point range. Stanley Johnson also had a season high with 16 points, and Andre Drummond had 11 points and 13 rebounds while battling foul trouble.
The Mavericks shot 79 percent (15 of 19) in the second quarter for their highest-scoring quarter (43) and half (65) of the season, taking a 12-point lead after trailing by nine in the first quarter.
The problem was offense for Detroit in the third, with the Pistons going seven minutes without a field goal and shooting 22 percent (4 of 18) after holding Dallas scoreless the first 3 1/2 minutes of the quarter.
Smith capped a 17-4 finishing run in the first half with a 3-pointer and a three-point play when he faked Reggie Jackson with a spin, hit a jumper and was fouled as Jackson scrambled back to him.
The 20-year-old Smith, drafted ninth overall, missed six games, and the Mavs lost five of them. He was 5 of 10 from the field with five rebounds while Jackson, a six-year veteran, had six points on 3-of-9 shooting. Jackson had five assists.
Barnes was 8 of 15 from the field, 3 of 5 from long range and made all six of his free throws while leading Dallas with seven rebounds.
Dirk Nowitzki scored 12 points, including a 3-pointer for Dallas' biggest lead to that point, a 23-point edge (92-69) early in the fourth quarter. J.J. Barea had one of his game-high seven assists on the bucket.
Tobias Harris, Detroit's leading scorer, scored 10 points on 4-of-16 shooting, missing all four shots from 3.
TIP-INS
Pistons: Drummond had nine rebounds in 17 minutes at halftime, leaving with 3 1/2 minutes left with his third foul. He picked up his fourth and went back to the bench with seven minutes left the third. ... Ish Smith scored 15 points, two shy of his season high.
Mavericks: G Kyle Collinsworth scored his first NBA points on a 3 in his debut a day after signing a two-way contract. ... C Salah Mejri was called for goaltending twice in the first half. The first was obvious since the ball had already hit the rim. The second was debatable. Mejri had four blocks.
UP NEXT
Pistons: Home against the Knicks on Friday night.
Mavericks: At Miami on Friday night to start a stretch of five of six on the road.
___
More AP NBA: https://apnews.com/tag/NBAbasketball