Barnes runs for 4 TDs as K-State routs Oklahoma State, 31-12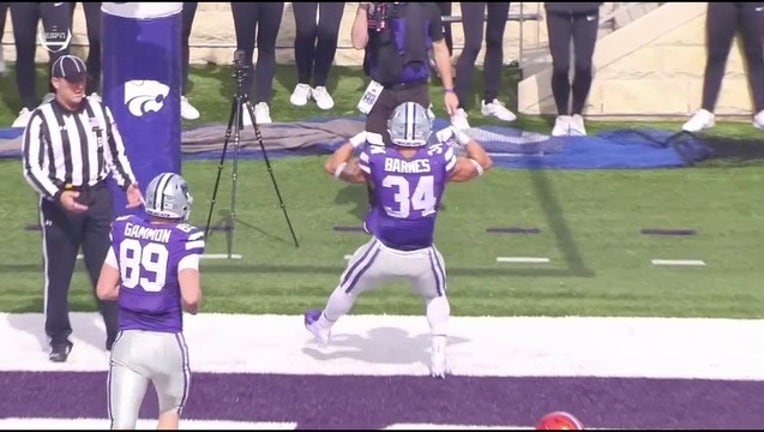 article
MANHATTAN, Kan. (AP) - Kansas State broke huddle against Oklahoma State at one point Saturday with three running backs joining quarterback Skyler Thompson in the backfield, the quartet making a unique diamond-like formation that coach Bill Snyder said has been part of the playbook for 30 years.
True or not, the claim was fitting given the Wildcats' entire game plan looked about that old.
Almost entirely abandoning the passing game, Kansas State bludgeoned the Cowboys with an old-school, ground-based attack. Alex Barnes rumbled for 181 yards and four touchdowns, the Wildcats piled up 291 yards rushing and they dominated the time of possession in a 31-12 rout.
"Our running game, we've addressed this week-in and week-out, it's gotten better, gotten better, gotten better," Snyder said. "Alex got a lot of yards but you get a lot of yards because someone up front is knocking someone else back. It's a team-oriented deal."
Thompson only had 130 yards passing, enough to keep the Cowboys honest, but added 80 yards to the rushing total in helping the Wildcats (3-4, 1-3 Big 12) end a three-game skid.
They've now beaten the Cowboys (4-3, 1-3) in back-to-back seasons for the first time since 2002.
"We have to look and see what we're doing, where we are at and what we can do to correct it," Cowboys coach Mike Gundy said. "We are trying to do what we can as soon as possible to fix the problems."
Oklahoma State led 6-3 at halftime before the Wildcats got their ground game going. They leaned heavily on Barnes, who ran for a career-best 250 yards last week against Baylor, and that allowed them to chew up the clock while keeping the Cowboys' offense off the field.
Kansas State took the lead when Barnes capped a nine-play drive with a touchdown midway through the third quarter. He added his second scoring run a few minutes later, then answered a TD run by the Cowboys' Taylor Cornelius with his third touchdown dart with 9:41 remaining in the game.
Cornelius finished 17 of 35 for 184 yards and two interceptions, while Cowboys running back Justice Hill spent most of afternoon bottled up. He carried 11 times for just 41 yards.
"We were tired of losing," Kansas State linebacker Justin Hughes said, "so we came out with the mentality that we weren't going to lose. Once we stopped Hill and made them throw we had them."
The first half resembled an old-school, Big Ten-style slugfest - hardly the pass-happy Big 12.
The Wildcats dared the Cowboys to beat them through the air, and Cornelius had 45 of his 97 yards passing in the first half on the only completion that made them pay. But despite that long play getting the Cowboys in scoring position, Kansas State's defense managed to hold for a field goal.
The Wildcats squandered a chance to score just before halftime, when Thompson was sacked on third down in the closing seconds. Without a time out, the clock expired without a field-goal attempt, and Snyder stalked his team all the way into the locker room.
Kansas State's offensive line atoned for that mistake in the second half.
Asserting its will at the line of scrimmage, the group pried open holes for Barnes and backup Dalvin Warmack, who patiently danced into the Cowboys' secondary. They kept riding that success late into the fourth quarter, when Barnes scored his final touchdown with a couple minutes to go.
"That's what we've been expecting all season," Wildcats offensive lineman Dalton Risner said. "I feel like we've been bringing it all season but we've turned it up the last few weeks."
THE TAKEAWAY
Oklahoma State: An offense that averaged 523.3 yards per game coming into the day was rendered ineffective in the second half. Hill's streak of 12 consecutive games with a touchdown rushing came to an end, as did the Cowboys' impressive streak of 19 straight wins when leading at halftime.
Kansas State: The season-long search for an identity may have uncovered a smash-mouth approach that can produce results. The Wildcats were held to six points a few weeks ago at West Virginia, and two TDs in a loss to Texas. But their run-based attack has been on-point against Baylor and Oklahoma State.
STATS AND STREAKS
Oklahoma States' streak of forcing a turnover in 33 straight games was snapped. ... Barnes moved into the top 10 in Kansas State history with 2,049 yards rushing. He's the first player with back-to-back games of at least 175 yards rushing since Darren Sproles in 2003. ... Wildcats cornerback Duke Shelley had both of the interceptions. He has at least one in all three games he's played against Oklahoma State.
UP NEXT
Oklahoma State is off before hosting ninth-ranked Texas.
Kansas State is off before visiting No. 11 Oklahoma.
___
More AP college football: https://apnews.com/tag/Collegefootball and https://twitter.com/AP_Top25