Barnes, Barea lead Mavericks to 109-103 win over Pacers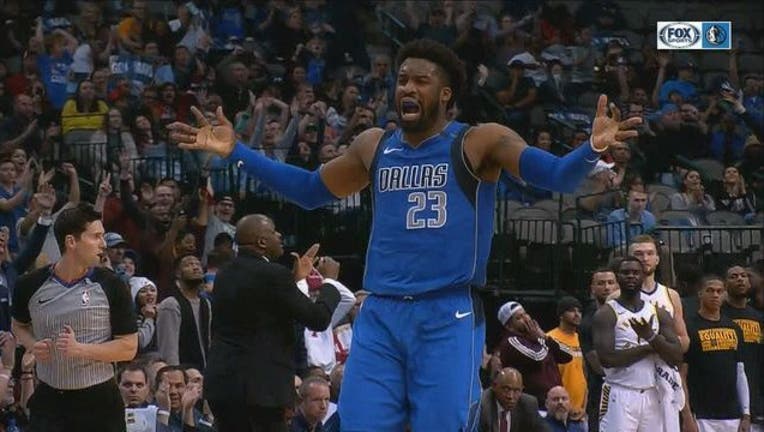 article
DALLAS (AP) - Harrison Barnes scored 21 points, J.J. Barea added 19 and the Dallas Mavericks beat the Indiana Pacers 109-103 Monday night.
The Mavericks ended a four-game losing streak and stopped Indiana's four-game winning streak. They also swept the two-game season series.
Doug McDermott had 15 points for Dallas, and Dwight Powell added 10 points and 14 rebounds.
Myles Turner led Indiana with 24 points and 11 rebounds. Turner played high school ball nearby at Euless Trinity and his only college season at Texas.
Victor Oladipo scored 21 for the Pacers despite playing only 23 minutes because of foul trouble.
The Mavericks, held to 40 percent shooting through three quarters, hit 10 of their first 13 shots in the fourth, five of them 3-pointers, to build a 93-80 lead.
Oladipo helped lead Indiana back. He scored 13 in the fourth quarter, and his free throw with 45.1 seconds left pulled Indiana to 99-97.
But Wesley Matthews hit a 3 with 32.4 seconds remaining to restore a five-point lead, and the Mavericks put the game away by making seven of eight free throws in the final 21 seconds.
Oladipo missed the previous meeting, a 98-94 Dallas win on Dec. 27, with a knee injury and played just 14 minutes over the first three quarters this time, picking up two quick fouls early in the game and never getting into a rhythm until late.
Dallas ended the first half on a 9-0 run to lead 49-43 at the break. Oladipo played just 11 minutes before halftime.
The Pacers answered with an 11-0 spurt early in the third quarter to take a 54-52 lead, and the game see-sawed the rest of the period until McDermott banked in a 3 at the buzzer to put Dallas up 68-65.
TIP-INS
Pacers: Oladipo's 1,303 points are the most he's scored in any of his five NBA seasons, and he still has 22 games to go. ... Indiana has outrebounded its opponent in the last five games after being outrebounded in 11 straight.
Mavericks: The club named former AT&T executive Cynthia Marshall interim CEO prior to the game. Marshall sat courtside next to owner Mark Cuban. ... The team honored founder Donald Carter, who died Feb. 14 at age 84, with a moment of silence before the game and a video tribute during the first quarter. ... Dallas signed Scotty Hopson to a 10-day contract. Hopson, who most recently was playing professionally in Turkey, has played only two NBA games in his career, with Cleveland in 2014.
UP NEXT
Pacers: At the Atlanta Hawks on Wednesday.
Mavericks: Host the Oklahoma City Thunder on Wednesday.
___
More NBA basketball: https://apnews.com/tag/NBAbasketball