Barkley, Griffin shined but Brown didn't at NFL combine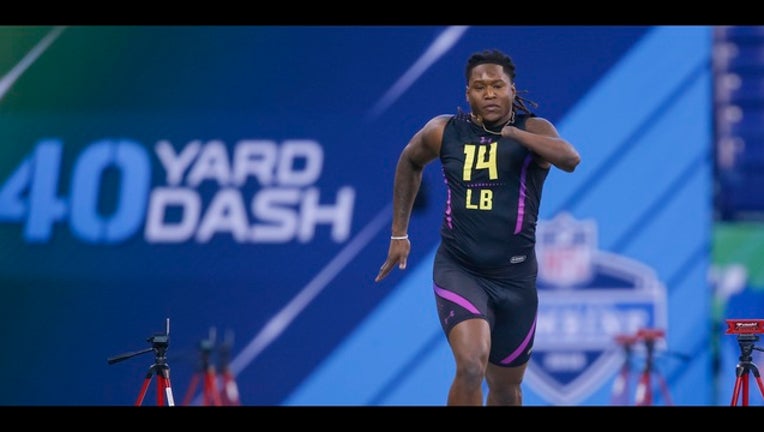 article
INDIANAPOLIS (AP) - All that's left of the 2018 NFL scouting combine is for the deepest class of defensive backs ever to attend the annual assembly of college prospects to wrap up their testing and timing Monday at Lucas Oil Stadium.
Then, they'll join the other hopefuls in returning home to prepare for their pro days, team visits and the NFL draft in Arlington, Texas, next month.
Here's a look at some of the highlights and lowlights of this year's combine:
BARKLEY BLOWS IT UP : Penn State running back Saquon Barkley exceeded lofty expectations in Indianapolis. His 29 reps on the bench press bested Luke Kuechly's 27. His 4.4 time in the 40-yard dash was better than Ezekiel Elliott's 4.47 and his 41-inch vertical jump was higher than Odell Beckham Jr.'s 38½.
"Oh no, I'm not surprised," said Nittany Lions linebacker Jason Cabinda, saying he's seen that kind of dogged determination every day out of Barkley, who could go anywhere in the top five picks depending on the run on quarterbacks.
"I'm competitive," Barkley said, "but I don't care if I'm drafted 1, 5 or 72 or the last pick, I'm going to come in with my head low ready to work."
GREAT GRIFFIN : Shaquem Griffin did 20 reps on the bench press with a prosthetic left hand in what was by far the best feel-good story of the combine.
"My goal was six," acknowledged Griffin, who almost doubled his previous high of 11 reps and surpassed the 17 his twin brother, Shaquille, managed at last year's combine before the Seattle Seahawks selected the speedy cornerback in the third round.
Griffin is expected to be a mid-rounder like his brother.
"This is a legitimate football player," NFL Network analyst Mike Mayock said. "He's an energy giver."
One who, conversely, fed off the hoots and hollers during his bench press.
"Everybody in the stands was hyping me up. I got the guys I'm here with hyping me up. It felt amazing," Griffin said.
JACK OF ONE TRADE : Louisville QB Lamar Jackson showed off a strong arm and excellent footwork but also some inconsistency while throwing to receivers Saturday. What he didn't do was run routes.
Many wonder if the 2016 Heisman Trophy winner might be best suited as an NFL receiver, but he insists he's "strictly a quarterback."
Mayock called Jackson the best and most fascinating athlete in this year's draft, noting that while his passing game needs plenty of polish, he's going to have an immediate impact running the football.
"He's Michael Vick," Mayock said. "He has as good a pair of legs as anybody in the history of the game. And he's going to win games with his legs."
DARNOLD'S DODGE : USC quarterback Sam Darnold refused to throw at the combine, preferring to show off his arm at his upcoming pro day with receivers he's used to playing with.
"I was a little disappointed Darnold didn't throw," Mayock said. "You get a chance to show off a little bit here. This is all about competition. I wonder in his heart of hearts if he missed competing (Saturday). Because the other guys went out and ripped it pretty good.
"I thought Josh Allen put on a show."
HURST GOES HOME : Michigan defensive lineman Maurice Hurst Jr., a possible first-rounder, was kept out of drills at the combine after doctors reportedly red-flagged a heart condition. Hurst told Utah defensive lineman Lowell Lotulelei that he had been diagnosed with the same heart condition as Lotulelei's older brother, Star.
Hurst, a 6-foot-2, 280-pound defensive tackle, had 59 tackles and 5½ sacks last season. He also had 13 tackles for loss and has been considered one component of a deep class of defensive tackles in this year's draft.
BAD, BAD ORLANDO BROWN JR. : The only thing that went well for Oklahoma's massive tackle Orlando Brown Jr. was the vote of confidence from his Heisman Trophy-winning teammate.
"When are you ever going to watch Orlando Brown run 40 yards down the field?" quarterback Baker Mayfield asked. "You can watch last year's tape and see he allowed zero sacks. I'd say that's pretty important for a left tackle."
It sure is.
But measures matter, too, and Brown's wretched week will surely cause him to slide down draft boards: He managed just 14 reps on the bench press, lumbered though the 40-yard dash in 5.85 seconds and put up historically poor numbers in the broad and vertical jumps.
THIN AT TACKLE : Notre Dame's Mike McGlinchey is projected as a late first-rounder, but if he falls to the second round, this year's NFL draft would be the first one in more than a half century without an offensive tackle taken in the first round.
The last time that happened was in 1965, and there were only 11 first-round picks that year. The last time a tackle wasn't selected in the top 32 picks was in 1960, when Len Rohde of Utah State went to the San Francisco 49ers with the 38th overall selection in the fifth round.
___
For more NFL coverage: http://www.pro32.ap.org and http://www.twitter.com/AP_NFL
___
Follow Arnie Melendrez Stapleton on Twitter: http://twitter.com/arniestapleton