Bamba leads Texas past Mississippi 85-72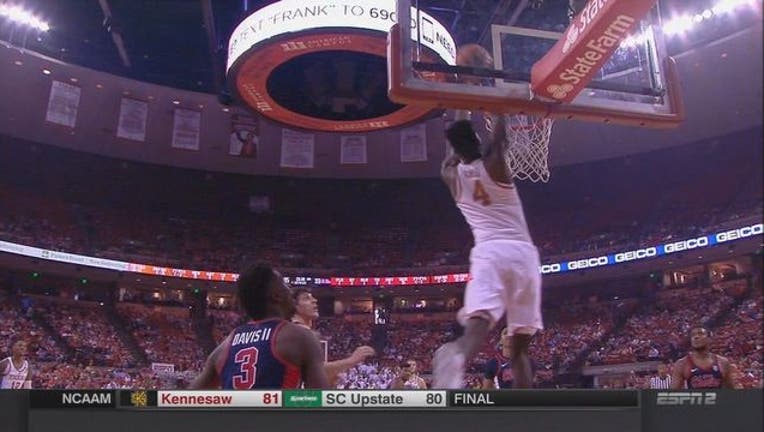 article
AUSTIN, Texas (AP) - Freshman Mohamed Bamba scored a season-best 25 points to go with 15 rebounds and four blocks and Texas defeated Mississippi 85-72 on Saturday in the Big 12/SEC Challenge.
The 6-foot-11 Bamba converted 6 of 8 from the field and 12 of 13 free throws. Dylan Osetkowski added 17 points for Texas (14-7), Kerwin Roach II scored 16, and Jase Febres 12, converting 4 of 8 from 3-point range.
Deandre Burnett led Mississippi (11-10) with 21 points, and Dominik Olejniczak scored a season-high 16.
Texas fashioned a 13-3 push late in the first half to take 45-36 at the break. Osetkowski scored eight points during that stretch, the last of them with a dunk after making a steal while the Longhorns pressed full court.
Olejniczak, who came in averaging 3.9 points per game, scored 14, on 7-of-9 shooting, in the first half. The 7-foot sophomore missed all four of his second-half field-goal attempts. Texas extended its lead to 15 with a 3-point basket by Eric Davis Jr. with 12:32 remaining and to 18 on three free throws by Bamba about three minutes later.
BIG PICTURE
Mississippi: The Rebels fell to 0-6 in road games this season. They are 10-3 at home, with victories over Florida and Alabama - both likely NCAA Tournament teams. Mississippi also beat South Carolina, which advanced to the 2017 Final Four.
Texas: Roach, a junior, has done his best to compensate for the loss of Andrew Jones, who was the team's second leading scorer before being diagnosed with leukemia, which the team announced in early January. Roach has scored 20 against Texas Tech on Jan. 17 and a career-best tying 22 against Iowa State on Monday before chipping in those 16 - and five assists - against Mississippi.
UP NEXT
Mississippi hosts Auburn on Tuesday. Auburn, ranked No. 22 at the time, beat Mississippi 85-70 on Jan. 9.
Texas is at Texas Tech on Wednesday. The Longhorns defeated the then-No. 8 Red Raiders 67-58 on Jan. 17 for their 22nd straight win over Tech in Austin.