Baker's solo home run lifts TCU past West Virginia, 11-10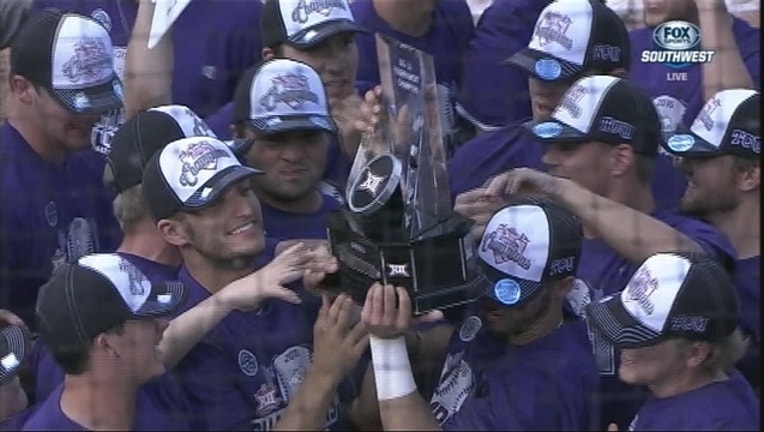 article
OKLAHOMA CITY (AP) — Luken Baker's solo home run in the top of the tenth inning earned TCU the Big 12 Conference Tournament championship with an 11-10 win over West Virginia on Sunday.
The home run was Baker's fourth of the tournament, and he finished 3-for-5 with two RBIs as the third-seeded Horned Frogs (42-15) won the Big 12 tournament for the second time in three years.
TCU led 8-0 after the top of the third inning before the Mountaineers (36-22) rallied to take a 10-9 lead after five innings. The Horned Frogs tied the game in the top of the ninth and won it an inning later.
Durbin Feltman (3-0) earned the win with three scoreless innings of relief, while Blake Smith (5-2) took the loss.
Fourth-seeded West Virginia entered Sunday having won its three previous tournament games by a combined score of 26-5.
However, the Mountaineers — who were seeking to secure their first NCAA Tournament appearance since 1996 with a tournament title — quickly fell behind against a TCU team that needed an extra game against Texas on Saturday night to reach the championship game.
The Horned Frogs scored five times in the top of the first inning, and they stretched their lead to 8-0 after a home run by Michael Landestoy in the third.
West Virginia, however, responded with three runs in both the third and fourth innings before scoring four more times in the fifth to take a 10-9 lead. Kyle Davis, who finished 3-for-6 with three RBIs, capped the inning with a two-run double for the Mountaineers.
Darius Hill and Jimmy Galusky each had three hits also for West Virginia, with Hill finishing with four RBIs.
TCU tied the game at 10-10 in the top of the ninth thanks to a sacrifice fly by Ryan Merrill that scored Josh Watson.
Baker followed an inning later with his blast over the fence in left.
Dane Steinhagen was 4-for-5 for the Horned Frogs, while Baker and Cam Warner each added three hits.