A's break out of slump and beat Rangers 7-1 to avoid sweep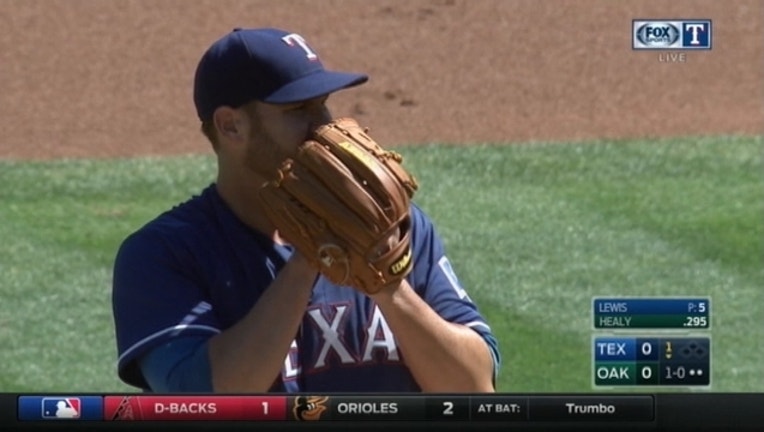 article
OAKLAND, Calif. (AP) — Jharel Cotton is off to a historic start to his career with the Oakland Athletics.
He's still not satisfied.
Cotton pitched seven crisp innings and the Athletics beat the Texas Rangers 7-1 on Sunday to avoid a series sweep.
He became the first A's pitcher since at least 1913 to start his career with four consecutive starts of five innings or longer while allowing one earned run or less.
"I wish I could give up no runs," he said. "I feel like in all my starts I give a home run, but they're good hitters, big league guys."
Ryon Healy had three hits, including a two-run homer, and Stephen Vogt drove in three runs to help the A's win after being shut out in back-to-back games.
Cotton (2-0) struck out five and allowed three hits and no walks. He faced two over the minimum while quieting the Rangers' potent offense, and threw just 70 pitches.
"I guess I have surpassed my own expectations, but just coming to ballpark in the big leagues and just going out there and seeing who I am, it's fun to see for myself," Cotton said.
It was no fun for the Rangers.
"That's the first time we've seen (Cotton)," Rangers manager Jeff Banister said. "He's got a special changeup, something we had not seen. When he's got that working for him it does present a challenge when it's the first time these guys have seen him."
Oakland had lost the first five games on this homestand. The A's avoided their first winless homestand in Oakland history.
"I was nervous coming into today," A's manager Bob Melvin said. "That would've just been a cherry on top of a bad season. It's nice to be able to go out there and score some runs and have a good-feeling game.
"(The fans) all stayed for the entire game, they're all waving and staying afterwards to wish us farewell and so forth. It's a great group of people and I'm glad we won today for sure."
Sean Doolittle and Ryan Dull pitched one inning apiece to complete the five-hitter.
Adrian Beltre hit his 32nd home run for Texas.
The Rangers, who clinched the AL West on Friday, fell into a tie with the Boston Red Sox for home-field advantage in the playoffs. Texas (92-64) holds a slight tiebreaking advantage based on division record.
Beltre homered off Cotton in the seventh, the 445th of his career. The 37-year-old also singled to move past home run king Barry Bonds on the career hits list with 2,937.
Coming off consecutive shutout losses in the first two games of the series, the A's did all of their scoring in the second to chase starter Colby Lewis (6-4).
Bruce Maxwell blooped an RBI single just past the outstretched glove of shortstop Hanser Alberto. Marcus Semien scored on a groundout and Vogt lined a three-run double to right before Healy's 12th home run, a towering shot that put Oakland up 7-0.
That ended a streak of 23 consecutive scoreless innings by Texas pitchers.
MALRBORO MAN
Rookie Matt Olson collected his first major league hit and impressed with his defense, making a leaping catch against the wall in right field.
"He never looks like anything really bothers him, Melvin said. "The first ball that was hit to him it looked like he was smoking a cigarette out there and then he catches it no problem, which made me feel a little better because I've never seen him play the outfield. And then the last one, I don't know that we have anyone as tall as he is who could've jumped up there and got it."
TRAINER'S ROOM
Athletics: Sonny Gray will come off the disabled list to make his first start in nearly two months against the Angels on Wednesday. Gray has not pitched in a game since Aug. 6 because of a forearm strain.
UP NEXT
Rangers: LHP Martin Perez (10-10) faces the Brewers on Monday when Texas begins its final homestand of the regular season. Perez owns a 2.65 ERA at home, tied for the lowest in the AL among qualifying pitchers.
Athletics: Sean Manaea (6-9) starts against the Angels in Anaheim on Monday. The left-handed rookie has not allowed a run in 11 consecutive innings since missing more than two weeks with a sore back.