Andrus, Rua, Chirinos power Rangers to 10-6 win over A's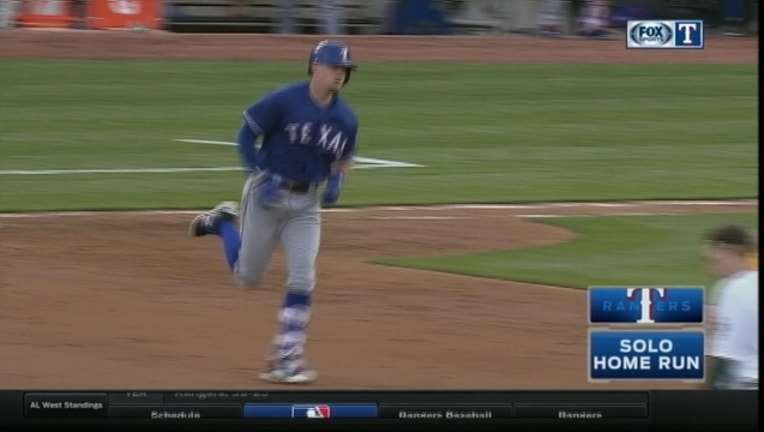 OAKLAND, Calif. (AP) — The Texas Rangers have had a pitching ace go back on the disabled list and a veteran slugger miss time with a hamstring injury.
Yet, they keep winning.
Elvis Andrus, Ryan Rua and Robinson Chirinos all homered to lead the Rangers to a 10-6 victory over the Oakland Athletics on Tuesday night.
Rua had two hits and three RBIs, Andrus had three hits and two RBIs and Ian Desmond had three hits. Chirinos also drove in three runs for the Rangers, who have 13 homers while winning four of five halfway through a 10-game road trip.
On the eve of the road trip, Yu Darvish experienced shoulder pain that landed him back on the disabled list and third baseman Adrian Beltre strained a hamstring.
None of that seems to bother the Rangers.
"They're not overwhelmed by the situation," Rangers manager Jeff Banister said.
Martin Perez (6-4) retired 14 of 15 batters before allowing three straight one-out hits in Oakland's three-run sixth. Perez allowed four runs and nine hits with no walks in seven innings — his longest start.
"We do the job and we know these guys are going to do the job, too," Perez said of the trust Rangers pitchers have in the hitting and defense that he believes makes them a complete team.
"That's what we have to do, throw a good game and give the hitters a chance to make some runs and we're going to win some games," he said.
Khris Davis led Oakland with two hits and two RBIs and Yonder Alonso added a two-run double in the ninth.
Eric Surkamp (0-4), called up from the minors for a fourth time, allowed seven runs, seven hits and two walks in 2 1/3 innings.
The A's lead the majors with 22 games in which starters have failed to pitch at least five innings.
"It's challenging," A's manager Bob Melvin said. "We've went through periods where we were OK. Now we've gone through other periods where we had to go to the bullpen early in the game, called some guys and then you get some guys injured. You only have so many guys."
FIELDER'S CHOICE
Rangers DH Prince Fielder will play first base at some point in the last two games of this series ahead of this weekend's interleague set in St. Louis, Texas manager Jeff Banister said. Fielder has played first base in just three of the 62 games in which he's appeared.
HONORING ORLANDO VICTIMS
The A's honored victims of the Orlando shooting during a previously scheduled Pride Night celebration, holding a silent tribute in lieu of the ceremonial first pitch.
A's pitcher Sean Doolittle joined members of the local LGBTQ community and fans passing a ceremonial first pitch ball and placing it on the mound as a symbol of remembrance. A portion of ticket proceeds from the game will be donated to local LGBT charities.
TRAINER'S ROOM
Rangers: RHP A.J. Griffin threw three innings in a rehab assignment with Double-A Frisco on Tuesday. Griffin has been on the disabled list since May 8 with shoulder stiffness. ... 3B Adrian Beltre (left hamstring soreness) remains on target to return to the starting lineup on Thursday, Rangers manager Jeff Banister said. ... Tom Wilhelmsen was optioned to Triple-A Round Rock a day after allowing six runs on nine hits in one inning. ... The Rangers recalled RHP Nick Martinez from Round Rock.
A's: Sean Manaea went on the 15-day disabled list with a strained (left) forearm. Manaea underwent an MRI earlier in the day showed a minor muscle injury, A's manager Bob Melvin said. ... Oakland recalled left-handed pitcher Eric Surkamp from Triple-A Nashville. The A's agreed to terms with RHP Daulton Jeffries, a Competitive Balance Round A selection. The 20-year-old was drafted out of nearly Cal.
UP NEXT
Rangers: LHP Derek Holland (5-5, 4.32 ERA) has 60 career victories with Texas and would surpass Darren Oliver for ninth in club history in wins and second among lefties (Kenny Rodgers had 133).
A's: RHP Sonny Gray's 1.92 career ERA against Texas is the third lowest of any pitcher with a minimum of 60 innings pitched. Gray (3-6, 5.34 ERA) is 0-1 with a 2.13 ERA in two starts since coming off the disabled list on June 5 with a strained shoulder. He was 3-5 with a 6.19 ERA in nine previous starts