American needs new coaches to lead drive for Power 6 status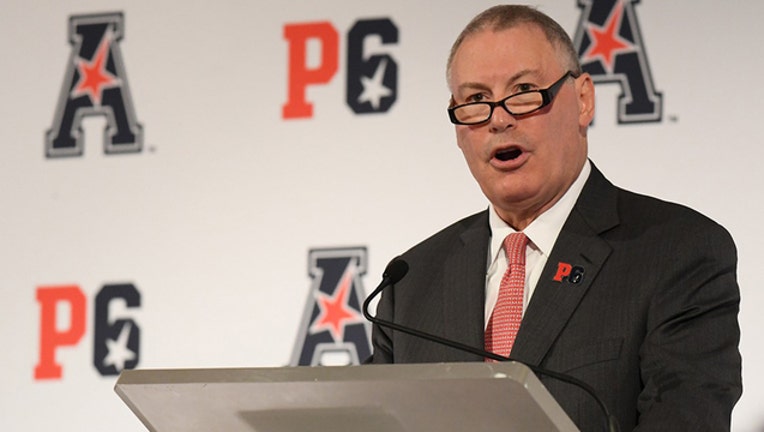 NEWPORT, R.I. (AP) - On the strength of rising-star coaches such as Justin Fuente, Tom Herman, Matt Rhule and Willie Taggart, the American Athletic Conference has positioned itself to at least make the case that it should be viewed as a peer to college football's most powerful leagues.
The five-year old conference has had enough success on the field to fuel Commissioner Mike Aresco's aspirations of turning the Power Five into the Power Six. That might be more of a dream than a goal, but if the AAC has any chance to close the gap on the Big Ten, Big 12, Atlantic Coast Conference, Pac-12 and Southeastern Conference, it will need a new wave of up-and-coming coaches to develop.
At the American's annual media day and clambake by the sea in this New England resort town, you might have needed a scorecard to keep track of the turnover in the coaching ranks. There are five new coaches, including at three teams that were among the best in the conference last year.
"Any anxiety over so many new coaches is easily dispelled by our conference's phenomenal record of hiring top assistants and established veterans who have invariably gone on to great success in our league," Aresco said Tuesday. "These coaches will no doubt do the same and join our incumbent coaches to comprise as strong a group as any in college football."
Aresco is confident, but it remains to be seen if the next Herman or Fuente is currently coaching in the American.
Major Applewhite was promoted from offensive coordinator to replace Herman at Houston. In two years with the Cougars, Herman won 22 games and parlayed that success into the Texas gig. At 38, Applewhite has already served as offensive coordinator at Texas and Alabama.
"You have to be yourself," Applewhite said. "Tom and I are different human beings. But I think we agree on a lot of the same principles that win games in terms team toughness, accountability, execution, buy-in, spreading the culture."
Rhule led Temple to the American championship in 2016 before leaving for Baylor. He was replaced by his longtime friend Geoff Collins, the former Florida defensive coordinator. South Florida took a different approach when Taggart left for Oregon, hiring former Texas and Louisville coach Charlie Strong instead of a first-time head coach to lead a team that is the overwhelming favorite to win the conference.
Cincinnati went the first-timer route, picking Ohio State assistant Luke Fickell to restore a program that went stale under Tommy Tuberville. Connecticut took a back-to-the-future approach, re-hiring former Huskies coach Randy Edsall.
Other than Ken Niumatalolo, who has been coach at Navy since 2007, the longest tenured coaches in the American are SMU's Chad Morris and Tulsa's Philip Montgomery, who are both entering year three.
Entering year two are Scott Frost of Central Florida, who took the Knights from winless in 2015 to a bowl last year, Willie Fritz of Tulane, Scottie Montgomery of East Carolina and Mike Norvell, the 35-year-old who took over at Memphis when Fuente left for Virginia Tech and kept the Tigers rolling.
Frost said he looked at UCF as a program with enormous potential, thanks to its location (Orlando, Florida) and resources.
"I think there's a lot of schools like that in our league, which makes this conference attractive to a lot of coaches, especially first-time head coaches," said Frost, the former Oregon assistant. "It certainly appears the teams that do well in this league, the coaches of those teams have an opportunity to move on if they want to."
Aresco and the American unveiled the P6 campaign this year as an attempt brand the conference in a way that distinguishes it from the rest of the so-called Group of Five FBS leagues. The P6 logo was splashed all over the ballrooms in the hotel where media day was held and even on the golf balls at Monday's outing. Aresco used the term P6 13 times during his 22-minute opening remarks. He talked about the AAC's 19 wins against P6 competition over the past two years.
"A Power Six resume indeed!" he said.
Success on the field only goes so far. What truly defines power is revenue and while the Power Five conferences have billion-dollar media rights deals, the American's contract with ESPN pays the schools a little under $2 million per season. That deal runs out in 2020 and Power Six is a way of positioning the conference for negotiations.
Aresco's dream of a true P6 seems unlikely to ever come to fruition, but if coaches like Morris, Montgomery, Norvell, Frost, Collins and Applewhite can be as successful as Herman, Rhule, Taggart and Fuente, the future of the American has a chance to be more lucrative.
___
Follow Ralph D. Russo at www.Twitter.com/ralphDrussoAP
___
More college football coverage: http://collegefootball.ap.org/