After poor showing, Cowboys' D visits site of 2013 meltdown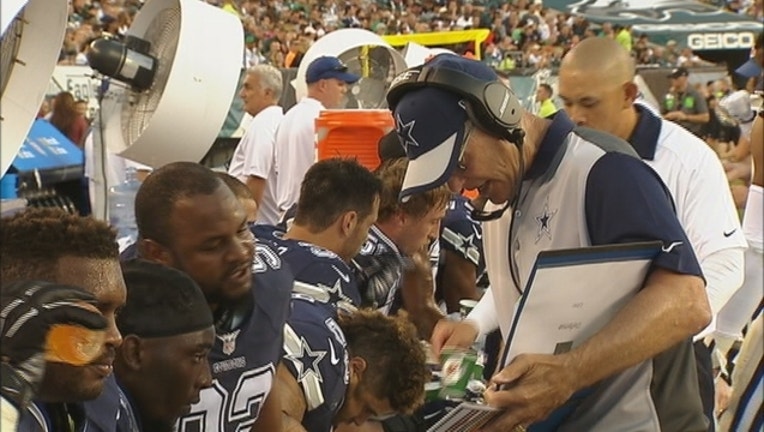 IRVING, Texas (AP) — Dallas defensive coordinator Rod Marinelli isn't looking for a turnaround from a unit that crumbled against Atlanta after a strong start the first two weeks of the season.
That's because he never is. Good game or bad, Marinelli still preaches preparation, technique and repetition.
"I know it sounds boring. I am boring," Marinelli said. "But I'm telling you the truth. Hey, correct this, do this right and now get it going and get on the field and make our corrections and improve our executions."
Reinforcements are coming this week and next as the Cowboys (2-1) return to the site of perhaps the worst defensive day in franchise history at New Orleans two years ago. The visit to the Saints (0-3) on Sunday night comes after the Falcons scored three straight touchdowns in the second half behind star receiver Julio Jones and fill-in running back Devonta Freeman.
The same group that held Chip Kelly's Philadelphia offense to 7 yards rushing in a 20-10 victory gave up 158 yards and couldn't hold three 14-point leads in the 39-28 loss to Atlanta. There was one difference, with defensive end Jeremy Mincey sitting out with a concussion.
Mincey cleared the concussion protocol this week and is expected to play in New Orleans.
"Mentality is everything," he said. "That is one of my gifts, mentality, bring guys with me with the energy. I real do feel like my teammates missed that."
Dallas is going into the last game before linebacker Rolando McClain and defensive end Greg Hardy return from four-game suspensions — McClain for a substance-abuse violation, and Hardy for a domestic violence case.
With Mincey sidelined against Atlanta along with rookie defensive end Randy Gregory (sprained ankle that will keep him out for the third straight game), the Cowboys didn't have the numbers they were used to with the rotation in the defensive line.
Defensive tackle Nick Hayden said that didn't matter.
"I don't think the focus was there," Hayden said. "We always preach technique, speed, be disciplined in our gaps, and we didn't have any of that."
The Cowboys didn't have much of anything the last time they visited the Saints in 2013. Dallas gave up an NFL-record 40 first downs and a franchise-record 625 yards to Drew Brees' team.
That 49-17 loss was particularly embarrassing because the Cowboys had fired defensive coordinator Rob Ryan the previous offseason and brought in Monte Kiffin to run the defense along with Marinelli to coach the defensive line. Ryan was hired by the Saints, who held the Cowboys to nine first downs.
"You learn, you evaluate and you move forward," said Marinelli, who replaced Kiffin after that season.
This time, the Cowboys aren't certain Brees will start because he missed last week's 27-22 loss to Carolina with a bruised right rotator cuff. He took first-team snaps this week and was listed as probable on the injury report Friday. Luke McCown filled in for Brees last week.
"I think we talk more about offenses having tendencies," Dallas coach Jason Garrett said. "Luke went into the game last week and it looked like the New Orleans Saints running their plays. It wasn't like they came up with all these new plays because he's a different style of quarterback."
The Cowboys were third overall on defense and the best in the NFL against the run after beating the Eagles. They dropped all the way to 10th in rushing defense while letting the Falcons covert nine of 14 third downs — many of them favorable yardage situations because of Atlanta's success on the early downs.
"We lost our identity for a game and we're fighting to get our identity back," Mincey said. "Sometimes it's good to get kicked in the rear end early. Better now than later."
___
Online:
AP NFL website: www.pro32.ap.org and www.twitter.com/AP_NFL
___
Follow Schuyler Dixon on Twitter at https://twitter.com/apschuyler