Abreu hits winning single in 11th, White Sox beat Rangers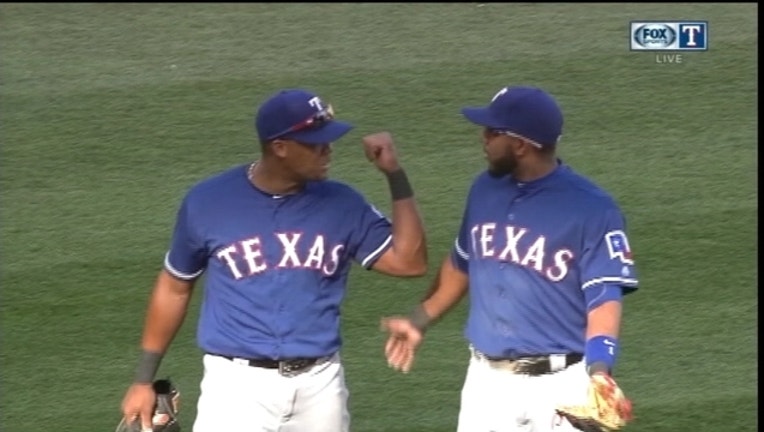 article
CHICAGO (AP) — The Chicago White Sox are off to a hot start even with slugger Jose Abreu struggling.
Abreu didn't exactly break out of his funk Saturday. He timed his one hit well, though, to keep Chicago rolling.
The slump-ridden Abreu hit an RBI single with one out in the bottom of the 11th inning, leading the White Sox to a 4-3 victory over the Texas Rangers. He began the day with a .180 batting average, three home runs and seven RBIs.
"I'm very confident that I'm going to produce to the level of my offense," said Abreu, who had only two hits in his previous 35 at-bats. He was 1 for 6 on Saturday.
"I need to work, but I need (to) do it for confidence, also."
The winner was a hard grounder to left field against a five-man infield.
"When you see that kind of formation, that's something that motivates you. At least I took it that way," Abreu said through an interpreter. "I'm struggling, but when I saw that, I said, 'Hey, this is my moment.'"
The White Sox hope Abreu can use the hit as a springboard to bust this slump.
"You're always looking for a silver lining that makes you feel good," manager Robin Ventura said. "Josie getting a hit right there, it's something to build off of. ... That's a step in the right direction."
Texas tied it in the ninth on Elvis Andrus' sacrifice fly off David Robertson, but the White Sox rallied for their fourth win in five games.
Dioner Navarro drew a leadoff walk in the 11th from Nick Martinez (0-1), the last of five Texas relievers. Austin Jackson was hit by a pitch and Adam Eaton walked to load the bases.
Jimmy Rollins grounded into a forceout at the plate before Abreu delivered the second game-ending hit of his career.
Matt Albers (1-0) pitched a scoreless inning, his 32nd in a row dating back to last season.
Down 2-1, the White Sox took the lead in the eighth. After Todd Frazier homered off Sam Dyson, Navarro hit a go-ahead single.
Frazier almost connected again for a winner in the ninth, but right fielder Nomar Mazara reached above the wall to snare his long drive.
Melky Cabrera had three hits for the White Sox, including a home run. Ian Desmond homered for the Rangers.
Texas starter Colby Lewis gave up one run and six hits in six innings.
White Sox starter Carlos Rodon left with two outs in the seventh, having allowed just two hits. Andrus greeted reliever Jake Petricka with a triple for 2-1 lead.
DID THAT REALLY HAPPEN?
One day after the first 9-3-2-6-2-5 triple play in Major League history, both sides still tried to make sense of it.
"It was all over the place," Ventura said. "Usually, you'll see it happens pretty quickly. ... You rarely see it coming in from the outfield. Our guys did a great job figuring it out and not rushing to do it."
"We're at the top in bases taken by being aggressive," Rangers manager Jeff Banister said. "Sometimes with being aggressive there is a little pain that comes along with it. There are situations that you do get caught. We got caught."
TRAINER'S ROOM
Rangers: On Friday, OF Josh Hamilton (knee soreness) had a double and two walks in four at-bats in his first appearance in extended spring training. He was expected to get 35 to 45 at-bats there. "It's about the legs and the body being ready to perform continually, not intermittently," Banister said. ... C Chris Gimenez (leg infection) went 2 for 5 with a double and caught for three innings in his extended spring debut.
White Sox: The only major league team without a player on the disabled list at the start of the day has one now. C Alex Avila was pulled after the sixth because of tightness in his right hamstring, an injury that he said would require extended time off.
UP NEXT
Texas LHP Derek Holland (2-0, 2.70) will oppose RHP Mat Latos (3-0, 0.49) in the series finale on Sunday.
Holland is 0-2 with 7.98 ERA in five games (three starts) vs. the White Sox. Latos is off to the best start in his eight-year career. He's given up one run and six hits in 18 1/3 innings.