AAC adds new coaches, team, championship game for 2015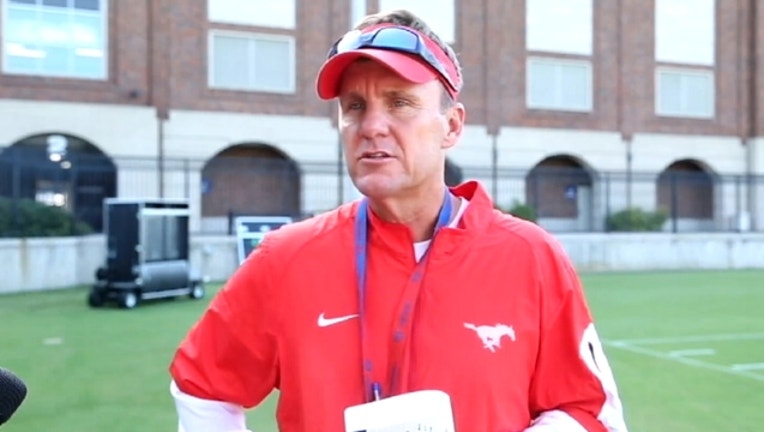 NEWPORT, R.I. (AP) — Cincinnati coach Tommy Tuberville isn't fond of the divide that has the American Athletic Conference on the outside of what are now considered the five power conferences in college football.
Tuberville, whose Bearcats (9-4 in 2014) are favored to win the AAC this season ahead of Memphis, said there are really only a few teams in the nation that have the ability to compete for a title every year, no matter what league they come from.
"The rest of them are about like we are," he said. "They are trying to fight their way in."
The AAC has made some changes for its third season hoping to help its teams battle their way onto the national stage.
Navy, which had been a football independent for 134 years, becomes the 12th member of the league, allowing the AAC to divide into two divisions and play a lucrative conference championship game at the end of the season.
The Eastern Division will include the four remaining teams from the old Big East Conference — Cincinnati, UConn, South Florida and Temple— along with UCF and East Carolina. Navy, despite its geographic location, will be in the West with Houston, Memphis, SMU, Tulane and Tulsa.
The American went just 4-22 against Power Five schools in 2014.
Tom Herman, who was offensive coordinator at Ohio State before becoming Houston's new head coach, said the AAC may not be the Big 10, but it has something that conference does not — parity.
"At the end of the day when Ohio State lines up and plays the 14th best team in the Big Ten, you're chalking that one up as a win," Herman said. "I don't think when Cincinnati or Memphis lines up to play the 10th or 11th best team in our league, anybody chalks it up as an automatic win."
Here are some other things to watch as the AAC enters its third season:
____
NEW COACHES
Herman is just one of four new head coaches on the AAC sidelines this season. SMU's Chad Morris was hired from Clemson, where he was the offensive coordinator and national assistant coach of the year in 2013. Tulsa coach Philip Montgomery coached the offense at Baylor, which had the nation's fifth-best passing offense last season and the nation's best total offensive production in 2013. Navy's Ken Niumatalalo is also new to the conference, though he's been at the helm of that football program since 2007.
___
LONG SEASON
In admitting Navy to the AAC, the conference agreed to allow the Midshipmen to continue scheduling Army in its traditional December slot as the last college football game of the regular season. This year's Army-Navy game is scheduled for Dec. 12, a week after the American Athletic Conference's inaugural championship game.
That means the Midshipmen conceivably could win the conference title before finishing their regular season.
"It would be really strange," Niumatalolo said. "Especially because our last game is such a big one for us. But if we were fortunate enough to get to that championship game, it would be a great accomplishment for our program."
___
TEMPLE'S CHALLENGE
Temple, which was left out of a bowl game despite being eligible at 6-6 last season, has a couple of chances to make statement on a national stage at home this season. The Owls open by hosting Penn State on Sept. 5. Temple then welcomes Notre Dame to Philadelphia on Halloween.
___
CONFIDENCE
UConn coach Bob Diaco is coming off a 2-10 season in his inaugural year as a head coach, but is not lacking in confidence. The Huskies received the fewest votes of any team in the annual media poll, and were picked to finish last in their division. But when Diaco was asked about his expectations for this year, he made a bold prediction.
"We're going to win every game," Diaco said. "We're going to play as one of four teams in the playoffs and win a national championship."
___
MANUFACTURED RIVALRY
UCF coach George O'Leary seems to be warming up to the idea of a rivalry game with UConn. Earlier this summer the Huskies tweeted out a picture of a trophy the school created for what it is calling the "Civil ConnFLiCT." The Huskies only conference win last year was a 37-29 victory over UCF, giving the Knights their only conference loss. UCF, which already has a conference rival in South Florida (recently moved to Thanksgiving), quickly responded by saying it had no part in creating a rivalry game with UConn. But O'Leary told reporters at the conference's media days that he understands why Diaco is trying to build up the game and said he hopes UConn brings the trophy with it on Oct. 10.