3B Beltre aims at retiring with Texas Rangers, just not soon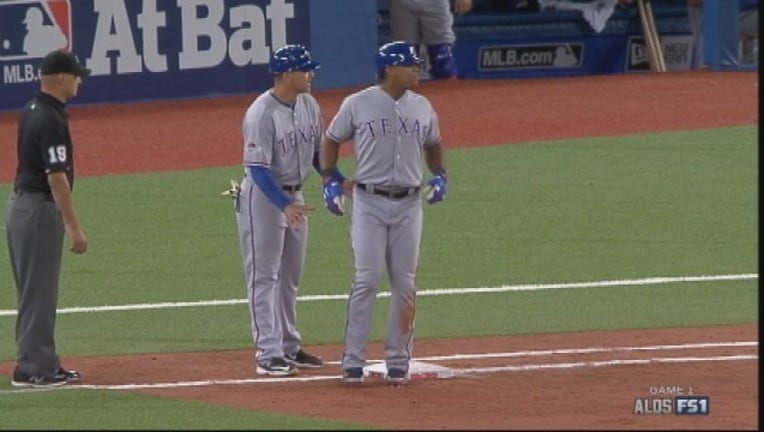 article
ARLINGTON, Texas (AP) — Sure, Adrian Beltre plans to retire as a member of the Texas Rangers. That just won't be any time real soon.
A week after his 37th birthday, Beltre signed a new deal that adds $36 million and two years for the All-Star third baseman through the 2018 season.
"Yeah, I heard a lot about age and I should be declining, but I don't buy into it until I feel it," Beltre said Saturday. "I feel like I'm 25. I feel great, my body feels great. Mental, I'm good. ... I have no doubt that the motivation is always there, the motivation to win is always there, the challenge to try to beat the team on the other side is always there."
And he's still productive for the Rangers, who have been to a World Series and missed the postseason only once in his first five seasons. In 744 career games with Texas before Saturday night, he was a .309 hitter with 137 home runs and 468 RBIs. He has won two of his four Gold Gloves since joining the Rangers.
"The largest impact we have on our club," manager Jeff Banister said. "You hear every one of (his teammates) refer to him as the captain. And it's the truth."
Beltre is in the final season of the initial $96 million, six-year contract he signed with the Rangers as a free agent before the 2011 season, when he had his only World Series appearance. Both Beltre and the Rangers had talked since the end of last season about getting a new deal done. There were conversations over the winter and during spring training, and everything finally came together in the last few days.
General manager Jon Daniels said Beltre has "come to epitomize what the Rangers are about" and that this deal is about one of the best players in the game right now.
"From all the moments on the field to the leadership off the field, this guy is as good as they come," Daniels said. "He's everything we want to be about."
Only Hall of Fame player Brooks Robinson has played more games at third base (2,870) than the 2,495 that Beltre had when he got his new deal.
Beltre is in his 19th major league season, having made his debut as a 19-year-old with the Los Angeles Dodgers in 1998. He has a .285 career average with 2,780 hits, 565 doubles, 415 home runs and 1,476 RBIs.
Even while playing most of last season with a torn ligament in his left thumb, Beltre hit .287 with 18 homers and 83 RBIs — and in August became the first player since 1933 to record his third career cycle in a game. He had surgery on his thumb after the season, and after missing two games in the ALDS because of a strained lower back.
Beltre could have tested free agency after the season, but never envisioned leaving Texas in his pursuit to win a World Series.
"Since I've been here, this team has been competing every year, giving me a chance to win a World Series. We've been close," he said. "Since I've been here, (Daniels) has promised me we're going to have a good team to win, and so far it's been good. ... It was an easy choice to get something done and remain here."
Notes: OF Josh Hamilton ran bases before Saturday's game and could take live batting practice Sunday off Yu Darvish, who is also on the disabled list. Daniels said Hamilton, still recovering from left knee surgery, is on track for a mid-May return. Darvish could be on a similar timetable. ... The Rangers recalled right-hander Nick Martinez from Round Rock, and optioned left-hander Andrew Faulkner to that Triple-A team. Martinez was 1-0 with a 3.38 ERA in two starts for Round Rock.