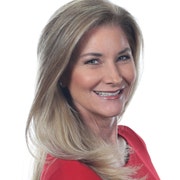 Remember that test you took in high school, the one that's supposed to tell you what you should be when you grow up?
Well, I took that test in my hometown of Houston. And when I saw the results, I thought, "Yeah, right." The person who dropped classes when the teachers said there was going to be an oral presentation could never be an anchor!
And, I almost wasn't.
I graduated summa cum laude from Chaminade University of Honolulu (yes, Chaminade hosts the Maui Invitational Basketball Championship!) with a BS in Behavioral Sciences thinking I wanted to be a sports psychologist.
But then I was crowned Miss Hawaii USA – and had an outstanding year – making hundreds of appearances for organizations like the Peanut Butter Ministry and Child Abuse Prevention - with everyone from Bob Hope to Kenny Loggins. After competing in Miss USA (and losing to my dear friend Shannon Marketic!), I received my Master's from Boston University in Television and Film.
My first "real job" was in Yakima, Washington, where I was "Heather with the Weather." Next stop - Green Bay Packers territory!
I am a huge Cowboys fan, but there is something special about watching a game at Lambeau Field when it's 10 degrees below zero and snowing!
I also got to cover the Packers' Super Bowl victory in New Orleans and their repeat run for the title in San Diego.
My love of the game has been a thorn in Mike Doocy's side for years.
During football season I make my NFL picks with Mike and the rest of the sports team on "Football Sunday." Well, I was crowned champion three years in a row. Guess that's like a Super Bowl Three-peat!
Other awards? I can thank students at Poteet High School for the National MADD Award I received in Washington, D.C. after two outstanding photographers and I covered the student-organized "Shattered Dreams" event.
And I can thank my co-anchor Steve Eagar for our Edward R. Murrow, Katie, and AP Awards for Best Newscast and Best Anchor Team.
While the recognition is an honor, who we are is about much more than trophies and tiaras. It's about giving back and making a difference.
Take a look around your community. Find out where volunteers are needed and give back just a little bit of your time. Believe me, it can change the way you feel about yourself and the world around you. You can find out about some of the amazing organizations I work with on my Website heatherhays.com.
Well, I'll wrap it up for now.Bottom line? Take time for others – and listen to your teachers -- that test you take in high school just might be right! See you at 6 p.m. and 9 pm.
Email me at heather.hays@fox.com.
Follow Heather on Facebook at www.facebook.com/heatherhaysroberts.
The latest from Heather Hays