Woman jumps out of window to escape fire that destroyed Dallas home on Christmas morning
DALLAS - A Dallas grandmother woke up Christmas morning to flames shooting out the roof of her home.
The fire heavily damaged the house on 56th Street in Oak Cliff, near East Ledbetter and South Lancaster.
The woman and three other people made it out safely, but most of their possessions are lost.
The grandmother said she was in such a rush to get out the house that she left her cell phone inside. She ended up having to run down the street to the nearby fire station for help.
Shanequah Dansby was sound asleep inside her home, when a fire sparked near the front of the one-story house just after 6 a.m.
"Somebody in the house was screaming, 'Get out. The house on fire,'" Dansby recalled.
Frantic to get out safely, Dansby said she jumped out of her window and forgot to grab her cell phone.
"The fire was coming from the front door, so I'd be a fool to run towards the door where the fire is, so I got to run to the back," she said. "I had to jump out the window."
Dansby banged on her neighbor's doors, but when no one answered, she ran down the street to a Dallas Fire-Rescue station and screamed for help.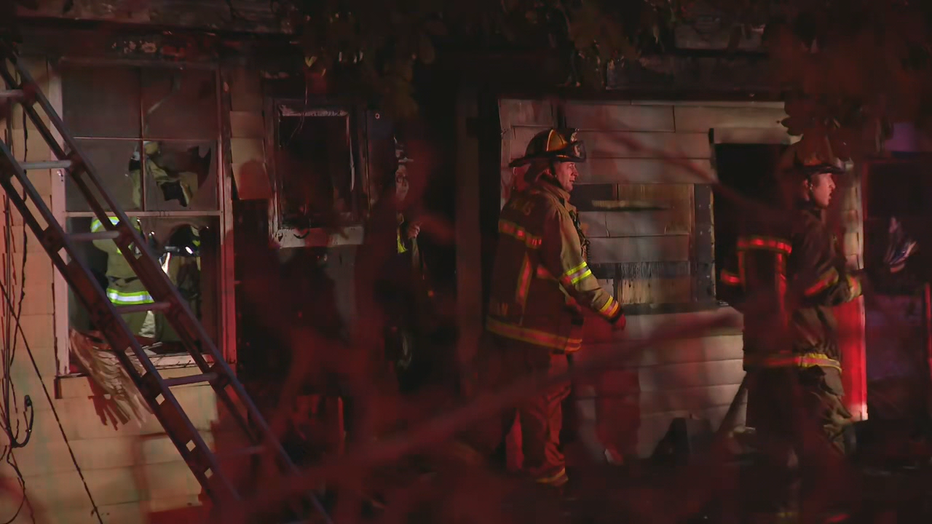 Corey Sneed was one of three other people who were inside the home at the time of the fire.
They too escaped through a rear window.
"It's a lot of stuff going on so you don't know what's going to happen. God blessed us to get out of there," Sneed said.
When firefighters arrived, they found flames coming from the attic.
They used hand lines and initiated an offensive attack, putting out the flames in about half an hour.
Investigators determined the fire was caused by an electrical shortage in the attic space, near the front of the home.
It was ruled accidental.
"We're still going to shine. That ain't going to stop us. We're still going to shine," Sneed added.
Dansby felt less optimistic after the fire destroyed her home. She said her two dogs died in the fire, and her grandkid's Christmas presents were destroyed.
"Just lost my puppies, Christmas trees, and toys. My grandkids are supposed to be here right now opening up toys. Merry Christmas everybody," she said.
The home appears to be a total loss.
Dansby is staying with relatives while she figures out her next move.
The other three people who were in the home at the time of the fire don't live there.