Watauga nursing home fire sends several to the hospital
WATAUGA, Texas - At least three seniors were taken to the hospital after a fire broke out at a suburban Fort Worth nursing home.
The fire started just after 6 a.m. Friday, at the North Pointe Nursing and Rehab in Watauga.
Officials said an HVAC unit from one of the rooms sparked it and the flames made their way inside. Fortunately, the fire was contained to just one room.
Firefighters from several departments were called in to help evacuate the 66 residents living in the facility. Some of them were immobile, in beds and on stretchers.
About three dozen were treated at the scene and seven were hospitalized for unknown injuries. Six of them have already been released, and the other will remain overnight for observation.
The nursing home would not confirm how many, but said a number of residents with specialized care needs were transported to hospitals.
Due to the fragile nature of the evacuees, first responders from nine cities were on scene. At one point, there were as many as 30 ambulances and firefighting vehicles, with blankets, snacks, and water a priority.
"Trying to keep them warm, trying to keep them comfortable. We have a rehab unit here that is from North Hills," said North Richland Hills Public Safety spokeswoman Carissa Katekaru. "At this point our patient count is about 38 non-critical patients."
Two officers also had to be treated for smoke inhalation.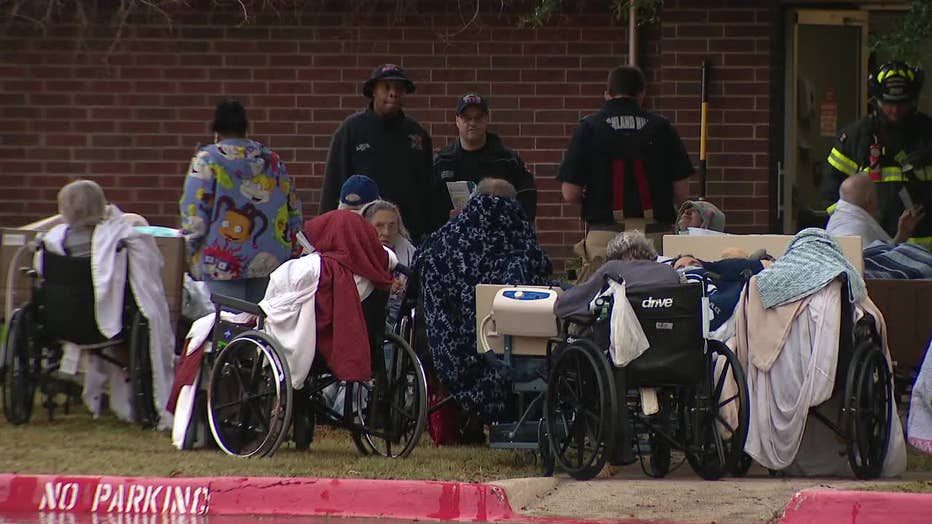 READ MORE: North Texas man who suffered heart attack at gym saved by people who knew CPR
Bell Robertson got a call from a nursing home aide, letting her know her 83-year-old mother was alright.
"Very scary, I was just like, is my mom OK?" she recalled.
Still, when Robertson and her sister arrived, they were not prepared for the chaotic scene and massive firefighting response. 
"I was starting to get really, really scared, me and my sister came down here and tried to pull in and we couldn't get through, so we were both crying in the car and just running and saw all these fire trucks and we are thinking of the other residents who live here. Some of them did go to the hospital for smoke inhalation," she said.
Robertson reiterated how relieved she was that her mother and the other residents were not seriously hurt.
"She's okay. She got a donut! They did provide some blankets and donuts and water, so she's good. She's not really sure of what's going on though," she added.
Investigators found that an HVAC unit caused the fire.
One hallway in the nursing home will need repairs because of water damage from the sprinkler systems.
North Pointe Nursing said those who live in the damaged area will be moved to other rooms in the facility until the repairs are complete.
The nursing home said repairs have already started, and should be completed in 10 days.