US attorney details why no charges in Alton Sterling case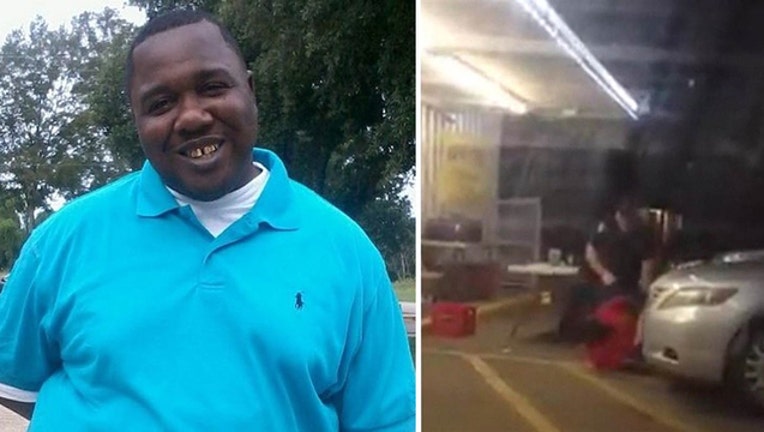 article
BATON ROUGE, La. - An investigation into the police shooting death of a black man in Baton Rouge found that there was not enough evidence to prove that the white officers acted unreasonably and willfully, a federal prosecutor said Wednesday.
The Justice Department's decision may not be the final legal chapter, however, because state authorities can conduct their own investigation of Alton Sterling's death last summer and possibly pursue state charges. The governor and Baton Rouge mayor planned a news conference Wednesday afternoon.
U.S. Attorney Corey Amundson described the federal investigation at a news conference after meeting with Sterling's family, saying every agent and prosecutor involved in the probe believed charges were not warranted for Officers Blane Salamoni and Howie Lake II.
Sterling, 37, was selling homemade CDs outside the Triple S Food Mart when police were called to the store to investigate a report of a man with a gun. Two cellphone videos of Sterling's struggle with the two officers quickly spread on social media after the shooting.
Amundson said the officers' encounter with the 6-foot-3, more than 300-pound Sterling happened in the span of about 90 seconds.
"Life and death decisions were being made in split seconds," he said.
The investigation found that Salamoni shot Sterling three times after saying that Sterling was reaching for a gun in his pocket, and fired three more shots into Sterling's back when he began to sit up and move, the prosecutor said.
The officers recovered a loaded revolver from Sterling's pocket. Two independent use-of-force experts reviewed the case and criticized the way the officers handled the situation but did not find that they acted excessively, Amundson said.
On Tuesday evening, dozens of people gathered outside the Baton Rouge convenience store where Sterling was shot and killed during a struggle with the two officers on July 5, 2016. At the vigil, residents and community activists held hands and prayed before urging state authorities to step in and take action.
Some called for Louisiana Attorney General Jeff Landry's office to investigate. Mya Richardson, an 18-year-old activist, read out Landry's Twitter handle and office phone number over a microphone and urged the crowd to "show him how angry you are."
Raheejah Flowers, 16, fought back tears as she told the crowd that "this is not the end."
"We are not going to take this sitting down," she said. "Alton did not die here for us to suck it up and move on!"
Police arrested nearly 200 protesters in Baton Rouge in July following Sterling's death, which occurred a day before another black man was killed by police in Minnesota.
Racial tensions in Baton Rouge were simmering when a black military veteran from Missouri ambushed and killed three Baton Rouge law enforcement officers and wounded three others before being shot dead on July 17. The city was still reeling from the shootings when August floodwaters damaged or destroyed tens of thousands of homes in the area.
Louisiana Gov. John Bel Edwards immediately asked for a federal investigation of Sterling's death. He called cellphone video of the incident "disturbing, to say the least."
The decision in the Sterling case was the highest profile decision not to bring charges against police officers in a deadly shooting since Jeff Sessions became attorney general. But the federal investigation into possible civil rights violations by the officers was seen as problematic. Authorities in such cases must meet a difficult standard of proof, a challenge that has complicated prosecutions in past police shootings.
As a convicted felon, Sterling couldn't legally carry a gun. Court records show Sterling had pleaded guilty in 2011 to being a felon in possession of a firearm and illegally carrying a weapon and was arrested in May 2009 after an officer confronted him outside another store where he was selling CDs.
Both officers remain on administrative leave, a standard procedure.
___
Gurman reported from Washington. Associated Press reporter Melinda Deslatte in Baton Rouge, Louisiana, contributed to this report.