Trump's rise is driving immigrants to become citizens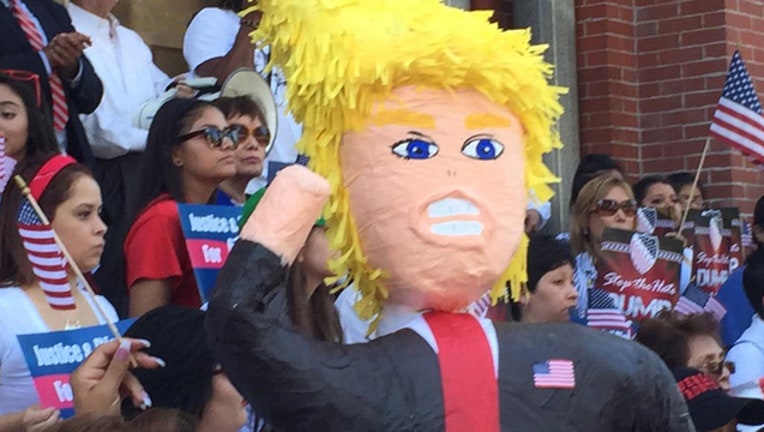 article
MIAMI (AP) — On a recent Saturday morning in South Florida, 50-year-old Edgar Ospina stood in a long line of immigrants to take the first step to become an American.
Ospina has spent almost half his life in the U.S. after emigrating from his native Colombia, becoming eligible for citizenship in 1990. But with Donald Trump becoming a more likely presidential nominee by the day, Ospina decided to wait no more, rushing the paperwork required to become a citizen.
"Trump is dividing us as a country," said Ospina, owner of a small flooring and kitchen remodeling company. "He's so negative about immigrants. We've got to speak up."
Nationwide, immigrants like Ospina are among tens of thousands applying for naturalization in a year when immigration has taken center stage in the presidential campaign, especially in the race for the Republican nomination.
Trump, the GOP front-runner, has pledged to deport the estimated 11 million people living in the U.S. illegally. He's also vowed to bar Muslims from entering the country and threatened to cut off remittances that Mexican immigrants in the U.S. send back home. And he's called for building a border wall — among other proposals to deal with unlawful immigration, saying the federal government has failed to protect the border from people and drugs illegally entering the country.
That rhetoric, immigrant advocates and lawmakers say, is driving many foreign-born residents to seek citizenship.
"There is fear of a Trump presidency," said Maria Ponce of iAmerica Action, a Washington-based immigrant rights group that is teaming up with other organizations to help those seeking citizenship — part of a national campaign called "Stand Up To Hate." They've sponsored naturalization workshops from Washington state to Nebraska and Massachusetts.
Nationwide, naturalization applications are up 14 percent in the last six months of 2015 compared with the same period in 2014, according to the government.
And the pool of future U.S. citizens is large. Nearly 9 million legal permanent residents, or green-card holders, are eligible to become Americans. Of those, about 4 million are Hispanic.
Rep. Luis Gutiérrez, D-Ill., was featured in a public service announcement encouraging immigrants to become citizens so they can vote in November. He mocked Trump's slogan, suggesting it was really: "Make America Hate Again."
"We've seen it in the past and we are seeing it again many times over this year," he said. "When immigrant communities feel they are under attack they react with a large number of eligible immigrants becoming citizens and a large number of eligible citizens becoming voters."
Erica Bernal of the National Association of Latino Elected Officials said the tenor of the presidential campaign is galvanizing Latino immigrants. She said today's movement is reminiscent of the 1990s when Latinos in California rose up against Proposition 187, which sought to deny government services to those in the state illegally. The courts overturned it.
Her group and several local ones in Los Angeles recently launched a regional campaign to encourage Latino immigrants to become citizens. About 775,000 legal immigrants in the L.A. area are eligible for citizenship.
To qualify, immigrants must have been in the country five years, complete a 21-page application, get fingerprinted, pass a civics and English exam and pay almost $700 in fees.
Ivan Parra, citizenship coordinator with the Florida Immigrant Coalition said immigrants laugh when he asks why they want to become Americans.
"'You know why,' they say, 'I want to vote against racism and hate,'" said Parra.
He says immigrants this year are "desperate to be part of the political process."
Maria Cristina Giraldo, originally from Colombia and already a U.S. citizen, said she is so fearful of Trump becoming president that she brought five relatives to a naturalization workshop in South Florida.
"Trump is anti-immigrant," said Giraldo, who works cleaning houses. "I don't know if it's because he's such a brute in his speeches or that he isn't careful in what he's saying, but he's very nasty toward Hispanics."
Her sister, Gladys Ceballos of Hollywood, Florida, agreed. She's trying for the second time to become a citizen after failing to pass the English exam. She says she's not fearful of Trump, but she doesn't trust him.
John Haughton, 66, a Jamaican immigrant, said: "Trump is a man who would say one thing today and may modify his views tomorrow."
"I want my voice heard," said Haughton, a legal permanent resident since 2008.
Seung Baik, 43, who was born in South Korea and brought to the U.S. as a teenager, said he too believes Trump is too divisive.
"It took me a little longer to become a citizen because I didn't want to apply and treat this as a membership to something, like joining a club," said Baik, a church pastor. "The world and this nation are changing, and my vote matters."
Baik said he won't be registering as a Democrat or Republican but remains independent. He's undecided about whom he will vote for in his first presidential election as a U.S. citizen, but "it won't be Donald Trump."
___
This version corrects the spelling of Ivan Parra, citizenship coordinator with the Florida Immigrant Coalition.