Trump takes in $51 million, takes potential VP's on tour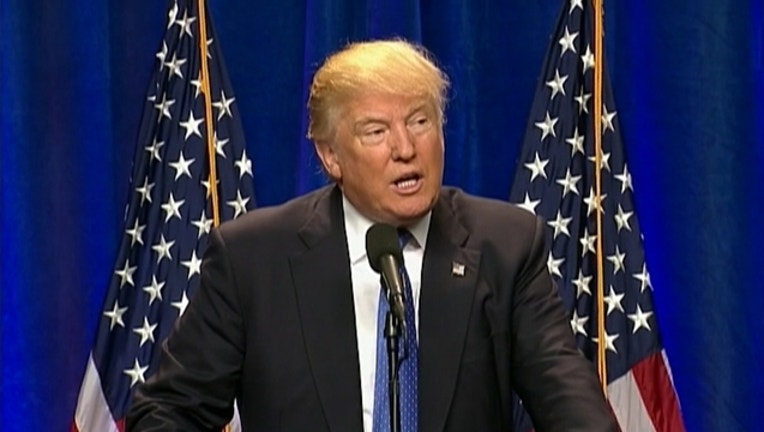 article
CINCINNATI (AP) — Celebrating new success in fundraising, Donald Trump says he took in $51 million for his campaign and allied Republicans in recent weeks, a huge jump from his previously lackluster figures but still well-shy of Hillary Clinton's money machine.
Trump also appeared to be moving closer to choosing a vice presidential running mate on Wednesday, though one senator who had been under consideration said, "No, thanks," and another said she wasn't interested.
Bob Corker of Tennessee dropped out of the running, telling The Associated Press that "there are better ways for me to serve" and that he cherished his position as chairman of the Senate Foreign Relations Committee. In an interview with Politico, Joni Ernst of Iowa said she can best help a President Trump from her place in the Senate.
"I made that very clear to him that I'm focused on Iowa," she said, a few days after Trump suggested she might be on his list in a weekend tweet. It's not clear how serious a candidates she actually may have been.
Yet another potential running mate, former House Speaker Newt Gingrich of Georgia, was appearing with Trump Wednesday night in Ohio.
Trump celebrated his campaign fundraising even before announcing it, tweeting Tuesday night, "Raised a lot of money for the Republican Party. There will be a big gasp when the figures are announced in the morning. Lots of support! Win."
Gasps or not, the total was a big improvement from May.
Trump's campaign said it raised $26 million online in June, a small portion of which will go to the Republican National Committee, as agreed to previously. Additionally, Trump and the RNC raised $25 million during 22 events in June and the final week of May, the campaign release said.
The campaign did not immediately clarify how much money came in June, or how much went to his campaign versus Republican committees.
In May, his campaign raised a little over $3 million from donors and the RNC pulled in about $11 million, according to Federal Election Commission filings.
Still, he was well-behind Clinton, who announced last week that she had raised almost $70 million in June for her campaign and Democratic partners. That included about $40 million that went directly into her campaign coffers.
The Clinton campaign's access to cash has enabled it to spend tens of millions of dollars more than Trump to build up voter contact operations and run advertisements ahead of the November election. Clinton's campaign has aired more than 22,000 commercials in battleground states in the past month, according to Kantar Media's campaign advertising tracker. Trump's campaign has aired none.
The billionaire businessman began his quest for the White House largely by paying his own way — and disparaging his Republican competitors as beholden to big donors. Yet as the general election contest began this spring, Trump said he would rely on the same kinds of donors he had previously called puppeteers. Ever since, his campaign and Republican partners have been working furiously to raise money even as he has remained publicly dismissive of its importance.
There are signs Trump is taking the need to raise money more seriously. In addition to releasing some of his latest fundraising numbers, late Wednesday he appealed to his 9.5 million Twitter followers to donate to his campaign in order to help him defeat Clinton.
In the meantime, he has been "road testing" potential running mates.
Corker had appeared with Trump at a rally in North Carolina Tuesday night, and Ernst had met with him in New Jersey on Monday.
Trump has previously mused that he might announce his running mate with a showbiz-style reveal at the party's convention this month in Cleveland. While he is now expected to announce his choice before the convention, the public appearances with possible choices seem a bit like the high-stakes competition he fostered in previous careers as reality television star and beauty pageant host.
Trump said in a phone interview with Fox News Channel Wednesday that he's now looking at 10 people for the job, including two generals.
"A lot of people are calling me that you wouldn't even think about. They want to have their names thrown into the hat," he said.
At a Tuesday evening rally, Trump asked Corker to join him briefly onstage, where the two men were a study in contrasts.
Corker stood at least a foot shorter and spoke in slow, deliberate phrases instead of Trump's rapid-fire braggadocio.
"The rallies that I have back home aren't quite like this," Corker told the crowd. "Pretty cool."
Shortly into his remarks, Corker was interrupted by chants of "Trump! Trump! Trump!"
"I'm taking up his time," Corker responded, before quickly turning the microphone back to Trump.
In contrast to Trump's style, four years ago, Mitt Romney held meetings with prospective candidates in the privacy of his lakeside home in New Hampshire in the weeks leading up to the Republican convention. Before the choice of Paul Ryan was announced, Romney's team had the Wisconsin congressman fly into Hartford, Connecticut, instead of Romney's Boston headquarters to avoid detection. They dispatched an aide's son to pick up Ryan, who wore a baseball hat and sunglasses to disguise his identity.
"The first significant action a presidential nominee takes in putting together his or her administration is selecting a VP," said Beth Myers, who helmed Romney's search. "So it's fair for the voters to look hard at both how a VP is selected as well as who is selected."
__
Colvin reported from Raleigh, North Carolina. Bykowicz reported from Washington. Steve Peoples, Sarah Grace Taylor and Erica Werner contributed to this report from Washington.
___
Keep track of how much Clinton and Trump are spending on television advertising, and where they're spending it, via AP's interactive ad tracker. http://elections.ap.org/content/ad-spending