Trackdown: Help find Darrion Hurst's killer
DALLAS - This week's Trackdown travels to the Pleasant Grove neighborhood in Southeast Dallas, where a father was shot and killed outside a busy convenience store.
Detectives said the video shows Darrion Hurst had no idea he was going to lose his life, even as he was being shot.
Police said Hurst was in front of the store near the intersection of St. Augustine and Scyene Road at about 9 p.m. back on March 25.
"He'd been out here for a little while. There's quite a few people coming and going from the store, people out here in the parking lot," Dallas PD Det. Jacob White said. Darrion's just hanging out, appears to be talking to one of his friends, when a guy come from around this corner walks up to him, and looking at the video, it appears he says something to Darrion. Darrion doesn't seem to be alarmed, and then immediately gunshots, and he drops to the ground."
Police said the suspect just walked away after the shooting.
"He appears to be a Black male, wearing what I believe is a Dallas Cowboys hoodie. He has the hood up, his hands are in the front pockets of the hood when the shots are fired. He never removes his hands, so he shoots from inside. He turns around and calmly walks away," Det. White said.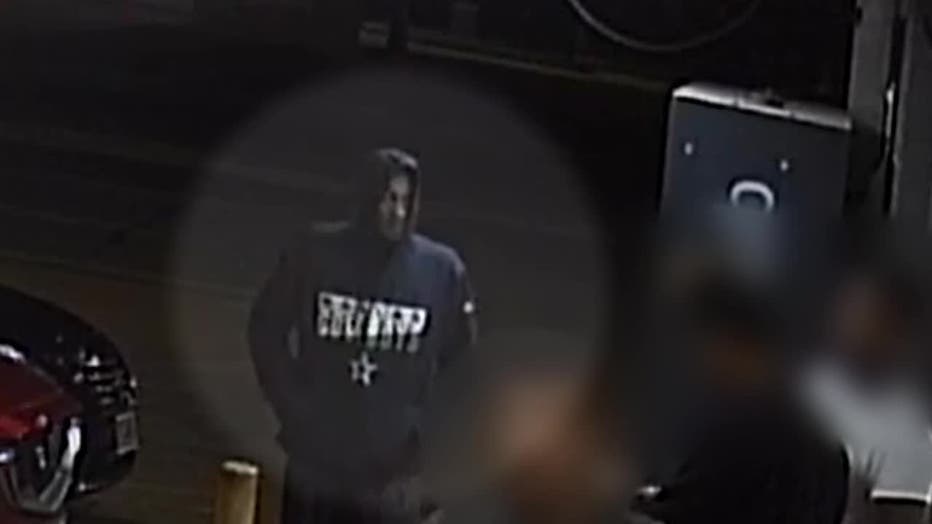 The surveillance video got a good view of the suspect's face, and police are hoping someone will recognize him.
"I've been told that he's been seen at this store on numerous occasions. I'm assuming he lives in the area and people around here will know him," the detective said. "If you know the suspect in this case, if you could please reach out to me. You can email me at jacob.white@dallaspolice.gov or you can give me a call on my cell phone, 214-283-4825."
Police are hoping to bring justice to Hurst's family.
"I know he's a father," Det. White said. "He didn't appear to be up here causing problems, and we're just trying to figure out what caused this to happen."