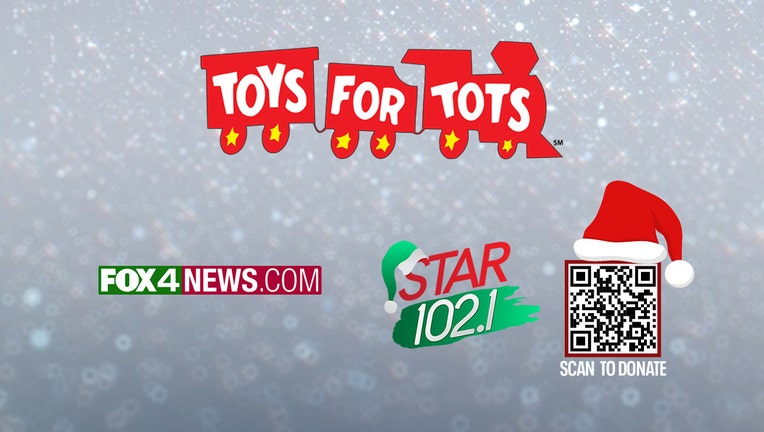 For the 19th year, FOX 4 and MORE 27 are partnering with the US Marine Corps Reserve to give kids hope across North Texas—thanks to YOU! There are several ways you can participate.
TOYS FOR TOTS DROP-OFFS
FOX 4 and the Marines will be at the following locations collecting new, unwrapped toys, starting at 5pm: 
Tuesday, November 30th
The University of North Texas Health Science Center at Fort Worth (HSC)
855 Montgomery St. Ft. Worth, TX 76107
https://goo.gl/maps/tobBP2XmtozsNwVs9
Wednesday, December 1st
Mansfield ISD Center for the Performing Arts
1110 W Debbie Ln, Mansfield, TX 76063
https://goo.gl/maps/8PZGU6J5gb5BMkR66
Thursday, December 2
Lava Cantina - Concert with Emerald City Band
https://www.facebook.com/lavacantinatc/photos/a.607850816021735/2134031266737008/
Free admission with Toy donation
Friday, December 3rd
Frisco Roughriders Ballpark
7300 Rough Riders Trl, Frisco, TX 75034
https://goo.gl/maps/VSEwn3y3gu8Nuf2L9
Saturday, December 4th (7am – 9am)
McDonald's
18751 I-635 S, Mesquite, TX 75150
https://goo.gl/maps/7SeUQ1prNzF7vXKo7
Monday, December 6th
Southlake Town Square
More details to come
Wednesday, December 8th
Cabela's 
1 Cabela Dr, Allen, TX 75002
https://goo.gl/maps/jPbTpcG4x5vh9TP17
Guidelines for toy donations are simple:

* Donated toys should be new and unwrapped.
* Toys should be appropriate for ages 0-12 years.
* With the exception of bicycles, most toys do not cost more than $30.
 
ONLINE DONATIONS
Your gifts will allow the Marines to triple their support. Every dollar you donate will be $3.00 worth of toys.
https://marinetoysfortots.salsalabs.org/localdonationform/index.html?fun_local_campaign_designation=TX-Fort%20Worth&scf_unit_code_supporter=TX-Fort%20Worth&fun_unit_location=TX-Fort%20Worth
VOLUNTEER!
You, your friends, and family can help sort toys for distribution at the Toys for Tots warehouse. Anyone 10 years or older can participate! CLICK HERE TO VOLUNTEER
https://www.signupgenius.com/go/20f0544a5a829a7f85-warehouse3
IF YOU NEED TOYS
Families requesting toys should contact their community recreation center or follow the link below for a list of distributing organizations. We regret we are unable to distribute toys directly to families.
https://fort-worth-tx.toysfortots.org/local-coordinator-sites/lco-sites/request-toys.aspx
All other questions: https://www.dfwtoysfortots.org