Texas Democrats plan multimillion dollar campaign to beat John Cornyn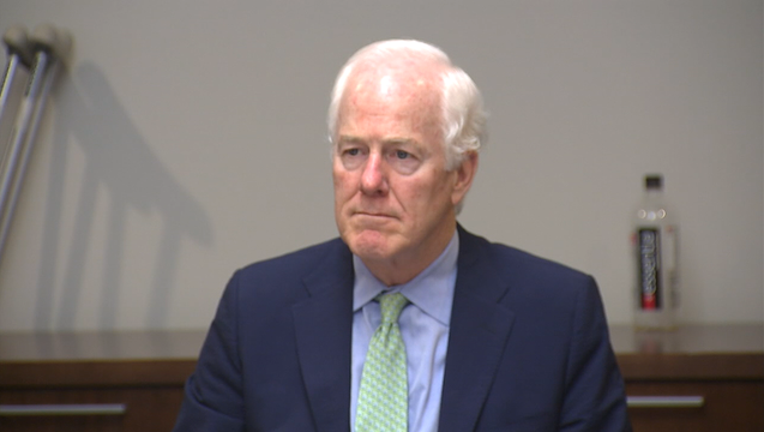 There's no Democratic candidate challenging Senator John Cornyn in the 2020 race yet. But the Texas Democratic Party says it is going to spend millions of dollars in a campaign against him right now.
Beto O'Rourke's narrow loss to Republican Senator Ted Cruz in the 2018 election has energized Democrats. But the question is can they mobilize O'Rourke-like enthusiasm without O'Rourke?            
O'Rourke is on to a bigger challenge. He officially launched his presidential campaign in El Paso last Saturday, though he's been campaigning for three weeks. He's hoping to build on a failed Senate race after a surprisingly narrow defeat to incumbent Republican Ted Cruz.
The Texas Tribune quotes a memo from the Democratic state party claiming recent polling that shows Texas is essentially tied in the presidential race with Cornyn unliked or unknown to 64 percent of voters.
The Cornyn War Room Project claims will tie him to President Trump, saying "We cannot wait for the primary dust to settle before we launch our attacks on John Cornyn."
"Democrats were profited in 2018 by the fact that Ted Cuz already had some substantial negatives in the electorate," said SMU Political Science Professor Matthew Wilson. "They'd like to try to create that with John Cornyn by going after him aggressively in the early going, and Cornyn is going to have to be ready to combat that."
Senator Cornyn responded on Twitter saying "Hope they spend every last penny they get from their out of state puppet masters."
Cornyn's campaign manager went a step further in a statement saying "Texans won't be fooled by their millions from California and New York."
Local Democrats believe O'Rourke energized young voters and infrequent voters in a way they can again.
"Republicans typically have their base that's going to come out in every election," said Trey Arnold with the Dallas County Democratic Party. "So what we have to do is set our foundation and make sure we get our core group and people that don't typically get out and vote and make sure they get out and vote."
Wilson believes Cornyn is still the favorite but he admits that the Democratic Party is growing organically in Texas because of demographic change.
There will be a fair amount of energy surrounding the presidential election, so Democrats still have a shot," Wilson said. "It's just not quite the same chance they would have had if Beto O'Rourke had been their Senate candidate."
The three most prominent names that come up for the Democratic nomination and face Cornyn next fall are Congressman Joaquin Castro, former Congressional Candidate M.J. Hegar and former Fort Worth State Senator Wendy Davis.