Tailgating begins early at AT&T Stadium ahead of Thanksgiving Cowboys-Raiders game
ARLINGTON, Texas - The tailgate party began Wednesday at AT&T Stadium ahead of Thursday's Dallas Cowboys game.
Fans are hoping to spend Thanksgiving watching the Cowboys win. 
There was also a party and a toy drive underway at Texas Live as fans look to give back before the game.
The party started early this year for some Cowboys fans tailgating outside AT&T Stadium.
George Zamora spent the last two days driving to Arlington in his RV from southern California.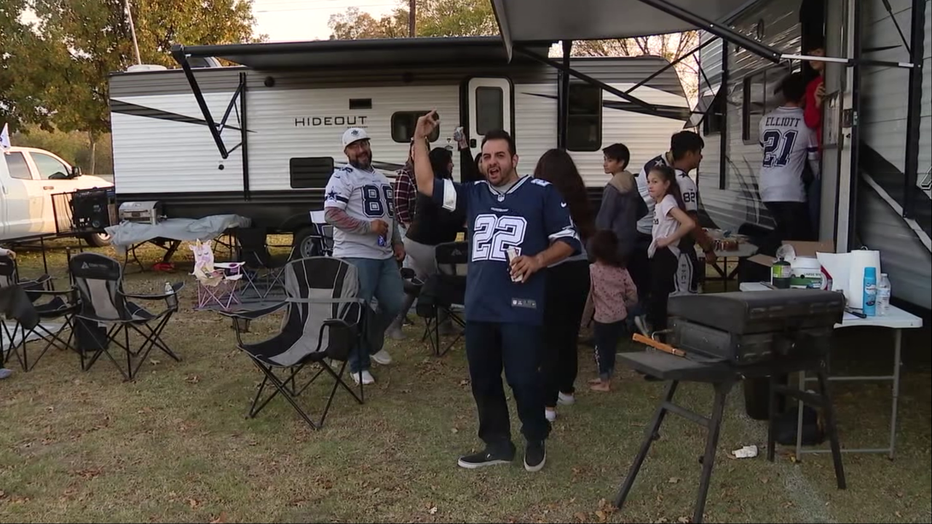 "This is my family's first NFL game. So I wanted to do it right on Thanksgiving," he said. "I wanted them to have the best time ever."
Zamora is a die-hard Las Vegas Raiders fan in a family that bleeds silver and blue.
They're one of dozens of families camping out in the RV lot at the stadium ahead of game day.
For Steven Maldonado and his family, this trip is all about healing.
"We lost our father a couple of years ago, and we decided to do something different this year," he said.
Thursday's game is the start of a new holiday tradition.
"That's going to be our table. Our victory table right there," Maldonado said pointing to the stadium.
Raiders fans in town for the game found something to do at nearby Texas Live! The entertainment complex put on a pep rally and hall of fame receiver. 
Raiders legend Tim Brown hosted a meet-and-greet toy drive to benefit Azleway Children's Services Foster Care in Grand Prairie.
"We're giving all of these toys to kids," he said. "Anytime anyone has an opportunity to help, they should take advantage of it. And they get to see me!"
And while Brown was born and raised in North Texas, he's got his fingers crossed for the Raiders.
"Hopefully our boys can get it together and make it a game at least," he said.
For fans going to the game who aren't camping at the stadium, parking lots will open by 10:30 a.m. Thursday so tailgaters can get an early start. Some private parking lots nearby open earlier than that.