Suburban Chicago woman arrested for DUI flips the bird in mugshot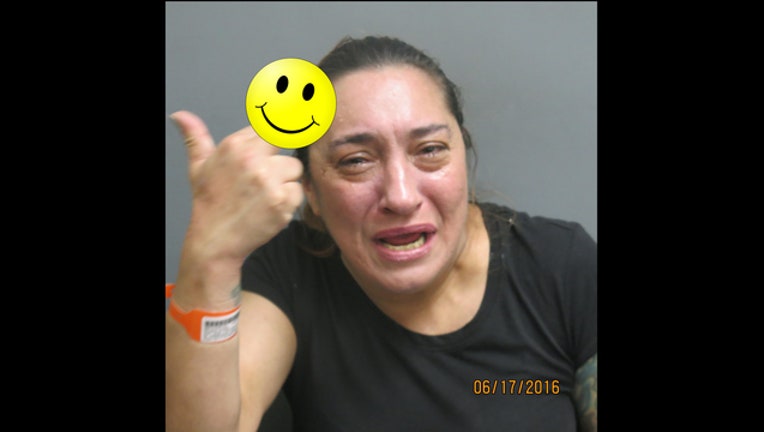 article
RIVERSIDE (Sun-Times Media Wire) - A woman charged with driving under the influence of alcohol Friday in west suburban Riverside swore at officers and gave the middle finger when police tried to take her arrest photo, police said.
Hazel Rojas, 44, of the 3300 block of South 60th Court in Cicero was charged with driving under the influence of alcohol, driving under the influence of drugs, police said. She was also cited for traffic violations.
A Riverside police officer pulled Rojas's Land Rover over at 3:27 a.m. Friday in the 3600 block of South Harlem Avenue after she was seen failing to go through a traffic light when it turned green. After the officer pulled up behind her vehicle, she began to drive 20 mph in a 35 mph zone and was straddling the lanes of traffic, according to police.
Rojas failed field sobriety testing and later refused to take a breath test while in custody, police said. When she was told she was under arrest for DUI, Rojas began to verbally abuse officers and asked not to be arrested because "she was friends with many other police officers in the western suburbs and started dropping names," according to police.
She was also in possession of Diazepam at the time she was pulled over, police said.
Once in custody, Rojas complained of a shoulder injury and was taken to MacNeal Hospital in Berwyn for treatment, police said. At the hospital, no injuries were found and she was placed back into police custody.
Rojas refused to have her picture taken at the station, gave officers the middle finger and spit and vomited in front of the arresting officer, police said.
Roja's 2003 Land Rover was impounded as part of her DUI arrest, police said.