'Still one of us': 92-year-old gets Purple Heart from WWII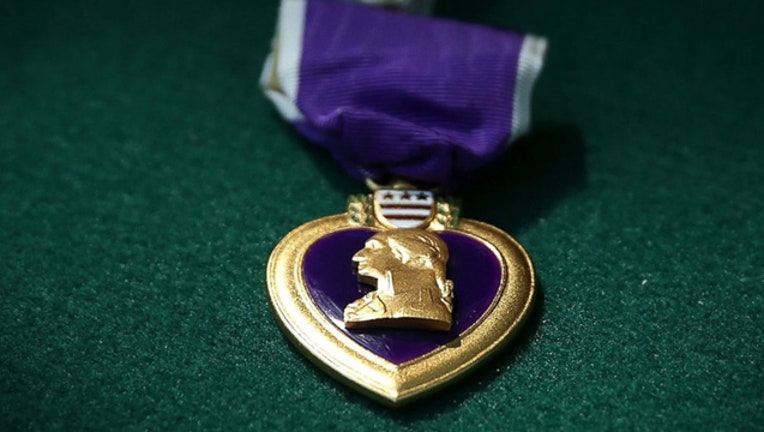 article
FAYETTEVILLE, N.C. (AP) - A 92-year-old North Carolina man has finally received the Purple Heart he earned more than 70 years ago while fighting in Belgium during World War II.
Oscar Davis Jr. was a private assigned as a radio telephone operator when he was knocked down by a large piece of shrapnel during the Battle of the Bulge, according to a Fayetteville Observer report (http://bit.ly/2o6jJiD). The radio on Davis' back protected him, but the German artillery barrage knocked down a tree that fell on Davis, injuring his spine.
He was paralyzed from the waist down for three weeks and ultimately rejoined his unit in Germany.
Davis was told long ago that he would receive the honor, but the award paperwork was never signed.
Decades later, he smiled from ear to ear as Lt. Col. Marcus Wright leaned down to pin the Purple Heart to his jacket on Saturday.
"This has been some day," Davis said. "I couldn't believe all this was going to happen. I just want to thank the Lord."
Friends, family and more than two dozen soldiers with the 3rd Brigade Combat Team, 82nd Airborne Division, attended the ceremony.
Wright, commander of the 1st Battalion, 505th Parachute Infantry Regiment, presided over the event. Davis belonged to the same regiment.
The ceremony was the culmination of nearly two years of work by the Veterans Legacy Foundation, a Harnett County-based volunteer organization that has helped more than 100 veterans receive military awards owed to them.
John Elskamp, executive director of the foundation, said volunteers scoured an archive of war reports to find proof of Davis' injuries.
The Purple Heart was the latest medal the group recovered for Davis. In late 2015, the group helped the World War II veteran to receive the Bronze Star and other medals that were awarded to him in a ceremony at the U.S. Army Airborne & Special Operations Museum in Fayetteville.
Capt. Andrew Hammack, commander of A Company, 1st Battalion, 505th Parachute Infantry Regiment, said Davis is "still one of us."
"He's just not currently reporting for duty," Hammack said.
___
Information from: The Fayetteville Observer, http://www.fayobserver.com