Significant damage in Arlington after EF-2 tornado hits Tuesday night
ARLINGTON, Texas - The National Weather Service says an EF-2 tornado was responsible for significant damage during storms Tuesday night in Arlington.
Police say some buildings collapsed and at least three apartment complexes were destroyed. The Arlington Fire Department says as a result of last night's tornado, at least three people were hospitalized with minor injuries.
NWS officials were in the field on Wednesday to evaluate the damage and gave determined the tornado had preliminary rating of an EF-2.
The tornado touched down near West Mayfield and South Bowman road, carving a five-mile path, with top winds at 115 miles per hour, and injuring five people, according to the National Weather Service report.
There was roof damage at the Waterdance Apartment Complex along Pioneer Parkway at Center Street in east Arlington. Large sections of the roof landed on cars in the parking lot. 
"We were inside we were making food and all of a sudden it just started shaking really bad and the whole ceiling just flew like really bad, and we took cover and just tried to make it out," said resident Alan Garcia. "It just happened so fast, I don't even know it was just crazy."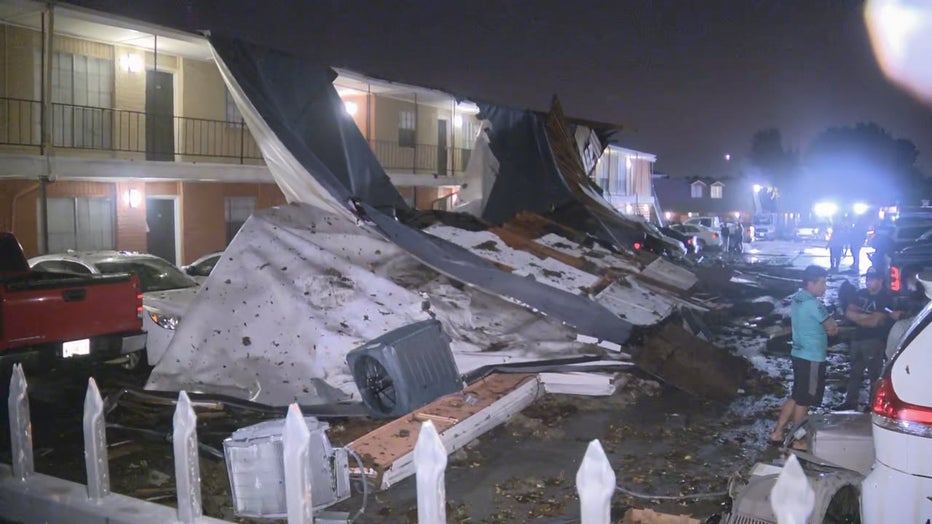 Many who lived in the now-damaged apartments are counting their blessings during an already difficult year.
"The whole ceiling, I mean it just came away from the wall, the whole ceiling and in her bedroom the walls collapsed in too," said resident Wilma Morris.
Morris said while the worst of the storm lasted just minutes, it felt like an eternity. 
"I was on the couch, she threw her body over me, the ceiling fan fell, and the whole roof lifted up," she said.
At least 75 families are displaced and a total of three apartment complexes have been damaged.
While dozens were displaced, they are thankful to be alive. During this pandemic, people still have a lot to be thankful for. 
After Tuesday night's EF-2 tornado, dozens of families in Arlington know it firsthand. 
"It makes me thankful that we're okay, but it makes me sad, it's sad that some people are going to spend Thanksgiving away from their homes," said resident Dody Fee.
"We were sleeping, and it was just, just like a nightmare, oh my gosh," Tamanna Orni recalled.
Families returned to their apartments Wednesday morning, hoping to find a few belongings that weren't destroyed. 
"We did grab as much as we can...memories...we try," Orni said.
Officials went door-to-door, making sure no one was inside any of the buildings before putting up fencing. 
Morris had just finished most of her Thanksgiving food prep Tuesday night, but said those things can be replaced. 
"We don't have anything. I personally don't have any clothes at all. But you know what, that's material, I was happy the kids got my husband's ashes for me. What can I say, we are here for Thanksgiving," she said.
Her granddaughter is thankful this Thanksgiving that she can still spend it with her loved ones.  
"Thanksgiving will have a different meaning, glad she will be there, because I can't do a turkey, so she gets to help," Kayla Morris said.
A carport at a neighboring complex came down onto some vehicles.
There are some homes that were damaged, as well as a church, fast food restaurants and other nearby businesses.
Instead of closing up shop to spend Thanksgiving with loved ones, businesses on South Cooper Street, near Pioneer Parkway, in Arlington cleaned up damage from the tornado.
Alfredo Garnica is now trying to salvage what he can from his now decimated cabinet business.
His building supplies were all destroyed, and a big project he was supposed to start this week is now on hold.
"Now I've got to start all over again and find somewhere to go and get my stuff done," he said. "Pretty much this whole place is just gutted out."
The awning of the Burger Box restaurant south of Arkansas Lane on S. Cooper collapsed on an SUV and a pickup truck.
Rosa Mohammed and her family in their SUV had a brush with disaster. The overhang in the drive-through lane at Burger Box collapsed.
"She had just handed our food over when it started raining and all of a sudden, I mean, it just hit" she recalled. "I mean the winds were so fast the things on the light wires exploded and the whole roof fell on top of our car. It was something, and experience that I'm still trying to get out of my mind."
Mohammed was in the front passenger seat. Her husband was driving and her 8-year old daughter was in the backseat.
"I tried to calm her down, but it wasn't doing any good. I felt useless," she said. "It fell right in front of us. If we had probably pulled out a little bit more, it would've landed right on top of the car. We probably wouldn't be here right now."
Anthony Fuller was behind them. He said his truck seemed to shield some of the impact.
"My truck was like holding it up. I feel like if my truck wasn't there, it probably would've crushed them. My F150 sits kind of high so it gave it like a little tilt," he said. "I was just grateful. It was a scary experience."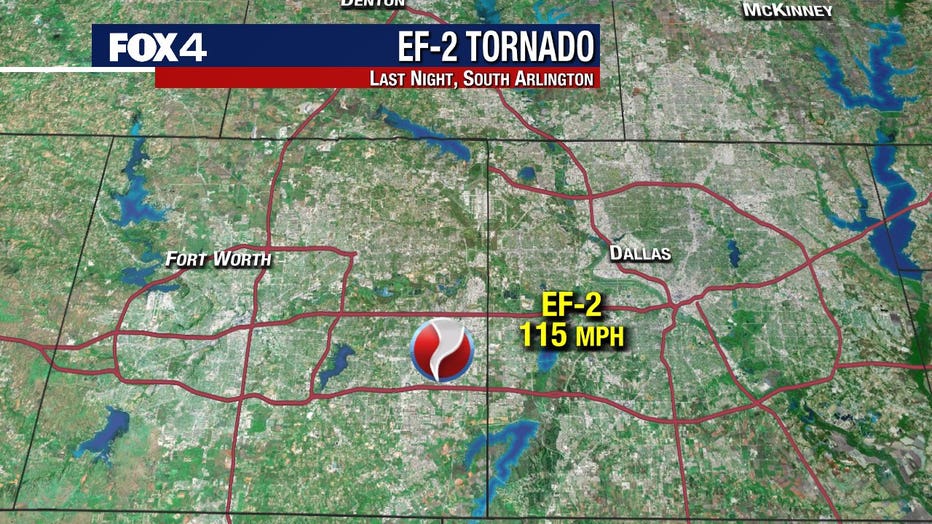 Across the street, the Safelite Auto glass store has some extensive damage, as well.
It appears the pressure of the storm crumpled up the garage doors that open to their repair bay. The store's sign was still lit up as the sun came up and employees were seen coming and going to begin clean up efforts.
Footage from SKY4 showed about half of the roof of the Safelite location had been ripped off by the tornado.
Just around the corner, Arlington ISD's Service Center also sustained damage to its roof along with its ventilation system, fencing, service vehicles and the district's radio tower.
"We are actually out of school this week for a student and staff holiday, and so we really do believe that we're going to get everything secured before we go back to school on Monday," district spokeswoman Anita Foster said.
Foster said school district engineers spent the day checking campuses for additional damage.
But she's more concerned about students who live in the nearby Mirage and Waterdance Apartment complexes, who are now displaced and without shelter, food, and clothing.
"We really want to make every effort to be sure that our Arlington ISD students get the help that they need," she said.
Crews from Oncor and Atmos were also in the area to work on downed power lines and reports of natural gas leaks.