Severe Thunderstorm Watch issued for large portion of North Texas
A Severe Thunderstorm Watch has been issued for a large portion of North Texas until after midnight on Thursday.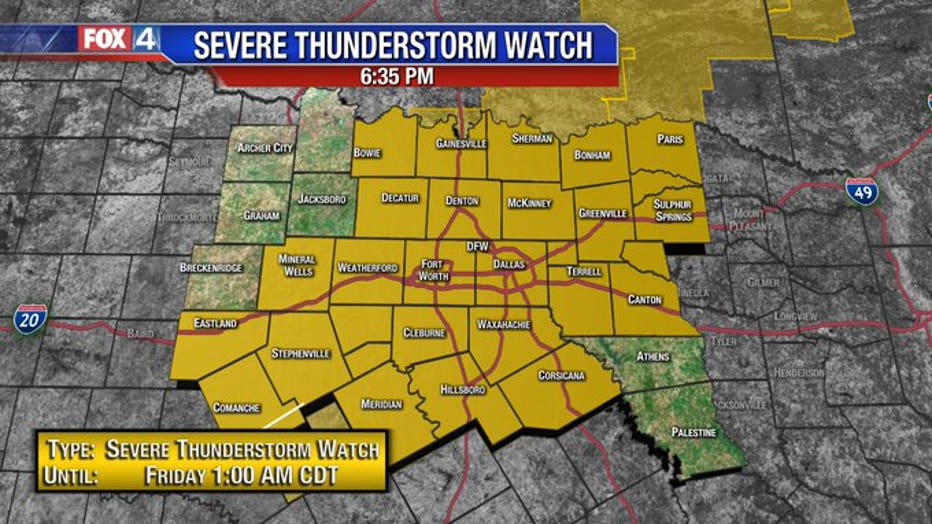 The watch was issued until 1 a.m. Friday, and the chances of severe weather caused some high school football games to be moved up on Thursday and Friday.
The cold front brought in a line of storms that produced up to golf-ball-sized hail in the White Settlement area and strong winds.
Timber Creek High School hosted Denton Guyer in Keller. The game started about an hour earlier than scheduled in hopes of beating the storms, but it wasn't enough. The game only made it through the first half before it was canceled.
It was all smiles during kickoff at Thursday night's varsity matchup between the Timber Creek Falcons and the Denton Guyer wildcats at the Keller ISD Athletic Complex.
But just before halftime, dark clouds and a severe thunderstorm warning prompted Keller ISD officials to clear the stands.
Players, cheerleaders and band members filed out of the stadium and headed to ride out the weather across the street from the stadium at Keller High School's gym.
"I think it's good because my kid's carrying a huge metal instrument, so I don't need him like struck by lightning and killed," said parent Rhonda Anderson.
Keller ISD Athletic Director Eric Persyn says he'd been watching the weather using an app that tracks reports of nearby lightning.
"Right before the half on the last play with 6 seconds left, we got a text and it showed up that we had lightning here that was only 9.5 miles away," Persyn said.
Keller ISD had already decided to start Thursday night's game an hour earlier than scheduled in hopes of beating the storms. But it was too late. After an hour of waiting, the game was canceled.
Friday morning will be colder with temperatures in the 50s. It will be windy and chilly with scattered storms throughout the morning before drying out in the afternoon.
Get the latest forecast at fox4news.com/weather.