Ryan: House to vote on barring guns for suspected terrorists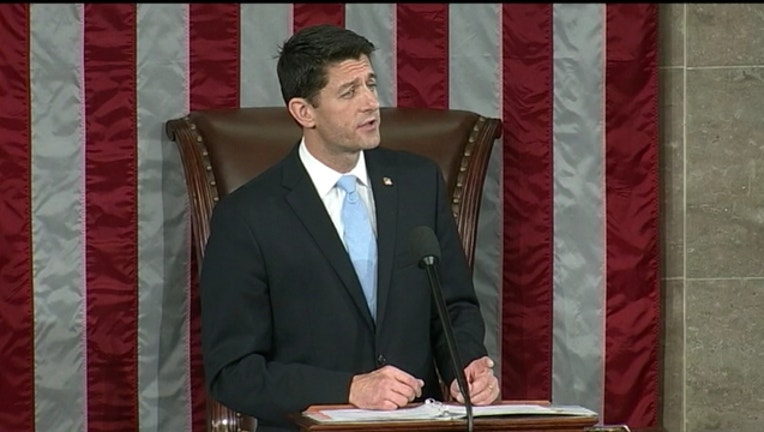 article
WASHINGTON (AP) — With Democrats applying election-year pressure to act on gun control, Republican Speaker Paul Ryan said Thursday the House will vote next week on a GOP proposal aimed at keeping suspected terrorists from obtaining firearms.
Ryan's plan, which he described during a conference call with Republican lawmakers, seems unlikely to quell the partisan showdown that has intensified since the June 12 mass shooting in Orlando, Florida. Two Republicans said the House is expected to vote on legislation resembling a National Rifle Association-backed bill that the Senate rejected last week after it was opposed by most Democrats.
Ryan, R-Wis., said the House will consider broad legislation also aimed at preventing extremist groups from radicalizing and recruiting sympathizers. He said lawmakers will also vote on a measure aimed at buttressing mental health programs.
Ryan said it is "just common sense" to keep firearms from terrorists, but he said it must be done while protecting the right to own guns, according to an official on the call. Ryan said Democrats were trying to change the focus of the debate about the Orlando killings from gun control to terrorism "because they cannot stand on their terrorism record," the official said.
The Orlando massacre, in which 49 victims died at a nightclub, was conducted by Omar Mateen. Killed by authorities during his siege, Mateen was an American who pledged allegiance to a leader of the Islamic State extremist group, according to a transcript of his phone calls with officials during the shootings.
Last week, Democrats staged a nearly 26-hour sit-in on the House floor demanding votes on firearms curbs. With the House in recess this week, many held home-district events around the country Wednesday to publicize their effort.
"House Democrats will keep up our efforts to push for the majority to allow a vote on gun violence legislation, but bringing up a bill authored by the NRA just isn't going to cut it," said Drew Hammill, spokesman for House Minority Leader Nancy Pelosi, D-Calif. wdc
Ryan's office provided no details about the bills the House will consider.
Rep. Peter King, R-N.Y., said he understands the House measure will be similar to one by Sen. John Cornyn, R-Texas, that the Senate defeated. It would let authorities block gun sales to suspected extremists, but only if prosecutors could prove in court within three days that the would-be purchaser was likely involved in terrorism.
Rep. Lee Zeldin, R-N.Y., facing a tough re-election race this fall, has introduced legislation similar to Cornyn's.
King said he was not on Ryan's conference call, but a second Republican on that call described the speaker's plans the same way.
King has sponsored the House version of a stronger bill by Sen. Dianne Feinstein, D-Calif., that the Senate also killed. It would let the government block gun sales to suspected terrorists and allow an appeal by the would-be buyer after the transaction has already been denied.
Republicans say the Cornyn measure protects gun owners' constitutional rights. Democrats say giving prosecutors three days to prove a gun buyer is probably involved in terrorism makes it too hard to thwart firearms sales.
The officials described Ryan's plans on condition of anonymity because they were not authorized to discuss the call publicly.