President George H.W. Bush admitted to hospital with infection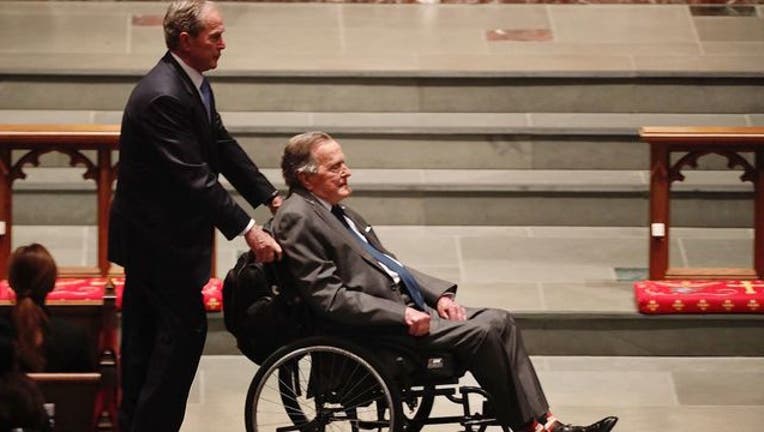 article
President George H.W. Bush has been hospitalized after getting an infection.
He was admitted to a Houston hospital Sunday morning after the infection spread to his blood, a spokesperson said.
"He is responding to treatments and appears to be recovering," Bush's spokesperson said in a statement. "We will issue additional updates as events warrant."
Bush laid his wife, Barbara Bush, to rest on Saturday. He attended the funeral in Houston and the burial at his presidential library in College Station. She died last Tuesday at 92 years old days after her family announced she was in failing health and would no longer seek medical treatment in favor of "comfort care."
George uses a wheelchair and an electric scooter for mobility after developing a form of Parkinson's disease and has needed hospital treatment several times in recent years for respiratory problems.
He was hospitalized for 16 days in January 2017 for pneumonia. During that hospital stay, which included time in intensive care, doctors inserted a breathing tube and connected him to a ventilator.
He also was hospitalized in 2015 in Maine after falling at home and breaking a bone in his neck, and in December 2014 for about a week for shortness of breath. He spent Christmas 2012 in intensive care for a bronchitis-related cough and other issues.
People in their 90s with Parkinson's disease are often at higher risk of pneumonia and other infections because their swallowing process can be compromised, said Dr. David Reuben, professor of geriatric medicine at the UCLA medical school in Los Angeles.
"And the stress of losing a loved one can weaken the immune system," he said.
Bacterial infections are treated with antibiotics, he said, while viral infections require other treatments. Infections that spread to the blood usually are not viral, however, he said.
The prognosis for such a case would depend on a number of factors, including heart rate, blood pressure and oxygenation, Reuben said.
"The more of these parameters are abnormal, the more serious the case is," he said.
George Herbert Walker Bush served as president from 1989 to 1993. Born June 12, 1924, in Milton, Massachusetts, Bush also served as a congressman, CIA director and Ronald Reagan's vice president.