Powerball drawing: $2 million lottery ticket sold in Houston
It may not be $754 million, but a Texan is $2 million richer this morning after last night's Powerball drawing.
A ticket sold in Houston matched all 5 white balls, missing only the Powerball, and doubled the prize by picking the Power Play option. 
The winning numbers in Monday night's drawing were 5, 11, 22, 23, 69 with the Powerball of 7.
18-year-old wins $48 million with her very first lottery ticket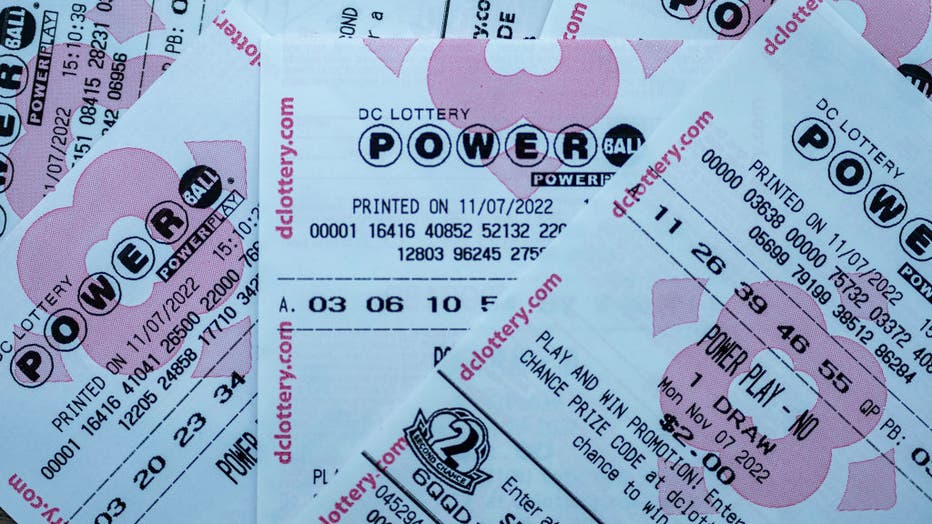 WASHINGTON, DC - NOVEMBER 07: In this photo illustration, tickets for the upcoming Powerball lottery are seen on November 07, 2022 in Washington, DC. The estimated Powerball jackpot for the November 7th drawing has increased to $1.9 billion, with an
A single ticket in Washington matched all 6 numbers, taking home the $754 million dollar prize.
The lottery game's website shows the jackpot for the next drawing on Thursday has dropped to $20 million.
Monday night's win was the first Powerball jackpot win since Nov. 19, 2022. That winless streak allowed the prize to grow larger and larger until it stood as the ninth-largest in U.S. history.
Higher interest rates have allowed annuity payments to increase compared with earlier jackpots, when rates were lower. Most winners prefer the immediate cash prize.
The game's abysmal odds of 1 in 292.2 million are designed to build big prizes drawing more players. That strategy certainly has worked recently, as someone in Maine won a $1.35 billion Mega Millions prize in January and a California player hit a record $2.04 billion Powerball jackpot last November. No one has claimed either of those prizes.
RELATED: Cafeteria worker 'fell to my knees' after winning $2M scratch-off prize
Powerball is played in 45 states, as well as Washington, D.C., Puerto Rico and the U.S. Virgin Islands.
The Associated Press contributed to this report.