Polls show Trump even in Texas with O'Rourke, Biden, Sanders in potential 2020 matchups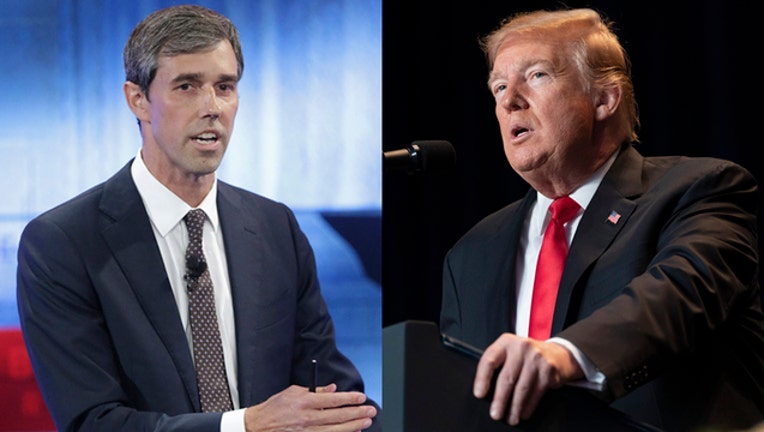 article
Texas is a tossup state in the 2020 presidential election, according to a series of new polls from Quinnipiac University.
The polls show President Donald Trump in a statistical tie with potential challengers like former U.S. Rep and Senate candidate Beto O'Rourke, former Vice President Joe Biden and U.S. Sen. Bernie Sanders.
The Democratic field for president, while brimming with candidates, is not yet full.
The polling finds Trump at 47 percent and O'Rourke at 46 percent in a poll of Texas voters. Trump also has a single point lead, 47-46, over Biden at a two-point lead over Sanders, 47-45.
There has not been a contested presidential race in Texas in more than a generation. The last time the state voted for a Democratic presidential candidate in a general election was in 1976, when a majority of voters selected Jimmy Carter.
This is an early poll. It mentions candidates who haven't even announced, but like the close U.S. Senate race in Texas last year, it might be a sign Texas isn't so reliably red.
"It tells you that Texas is likely to be fairly close in 2020," SMU political science professor Matthew Wilson said. "Texas is no longer one of the most Republican states in the country."
Wilson says the fact that three candidates appear competitive with Trump is telling. Trump won Texas by nearly 10 percent in 2016.
"It also says that a lot of people are going to vote for any credible candidate who is not Donald Trump. There's a strong anti-Trump faction that will gravitate to whoever the Democrats end up nominating," he added.
The big reason why Texas could be a major headache for Trump is a massive shift in independent voters in the state away from Republicans. O'Rourke and Sanders both get 48 percent of independents to 41 percent of independents for Trump. Biden gets 46 percent of independents to Trump's 41 percent.
"The 2020 presidential race in Texas, and how some of Democrats stack up against President Donald Trump, begins as a two-tiered contest. There are three more well-known contenders who run evenly against President Donald Trump. Another group, less well-known, are just a little behind Trump," said Peter A. Brown, assistant director of the Quinnipiac University Poll.
Sanders is a declared candidate, but O'Rourke and Biden have not officially entered the 2020 Democratic primary. On Wednesday, people close to O'Rourke said he would not challenge Texas' incumbent U.S. Sen. John Cornyn in 2020. A presidential bid could be announced soon.
Republicans in Texas and around the country have been split on the reason behind Democrats' strong performance in the state in 2018's midterm elections. Some officials believe the state is finally on its way to being a so-called "purple" state that is no longer safe Republican. Others in the party have stated O'Rourke alone created a unique situation that cannot be replicated in future elections.
O'Rourke's strong performance, losing by less than three points to Sen. Ted Cruz, turned out voters that voted for Democrats in down-ballot races and flipped several seats in the U.S. House and Texas House.
An announcement on whether he will run or not is right around the corner for O'Rourke.
Sources tell the Associated Press that his campaign is already reaching out to Democratic strategists about a national effort.
When asked, O'Rourke didn't give a straight answer about his future.
"I'm going to be making an announcement soon," he said. "I'm going to be making the same announcement to everybody at the same time. That's all, that's all."
Quinnipiac surveyed 1,222 voters in Texas from Feb. 20 – 25 and has a margin of error of +/- 3.4.