Police slowly chase woman with small child in SUV to Rockwall day care
ROCKWALL, Texas - Rowlett police were involved in a very slow-speed chase Wednesday with a woman who had her young child in the vehicle.
Video from SKY 4 showed multiple police vehicles following the gray or dark-colored SUV on eastbound Highway 66 into Rockwall. It was riding on its rims and going about 15 mph.
The driver finally pulled off the highway and stopped in the Children's Park North daycare parking lot on Rusk Street in Rockwall. That sent the center into lockdown mode.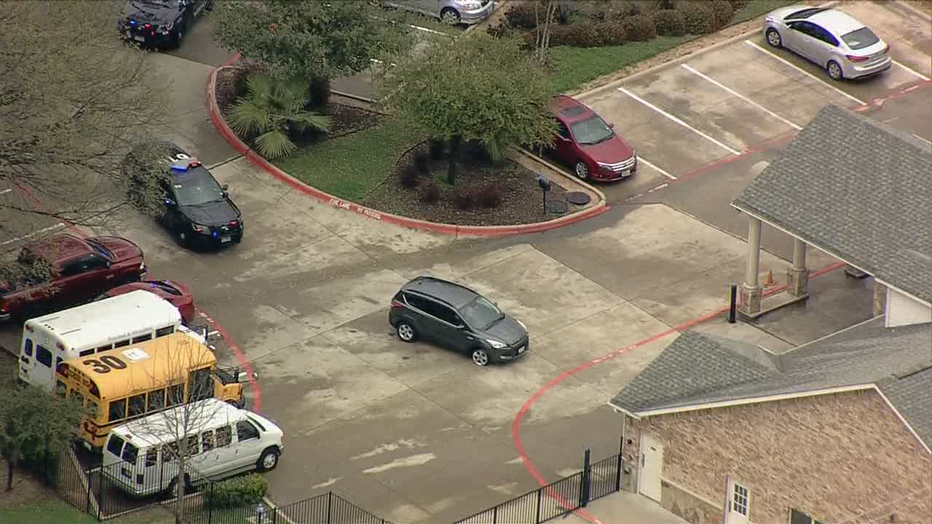 Detective Cruz Hernandez with the Rowlett Police Department said officers got a call about a welfare check in the 2400 block of Elmhurst Street just before noon. They found a woman who had gotten into an argument with her family.
As officers were talking with her, police said the mother suddenly took off with her 4-year-old son in the front seat without a car seat or a seat belt.
"During the course of her investigation, the woman jumped into her SUV with her 4-year-old child, and she went through some yards there in the neighborhood to evade the Rowlett police officers," Det. Hernandez said. "Officers did see the 4-year-old was unrestrained, no seat belt, no child safety seat in the front seat, as she drove away."
The low-speed chase went through Garland and Rockwall, with those police agencies assisting, and the DPS helicopter following closely. Authorities were concerned for the welfare of the young boy.
Police determined the safest way to end the chase was to use tire spikes.
 "When tire spikes are deployed, if they're effective, then the air leaks out slowly. It doesn't cause you to lose control of the vehicle," Det. Hernandez explained.
Garland police helped spike three of her four tires.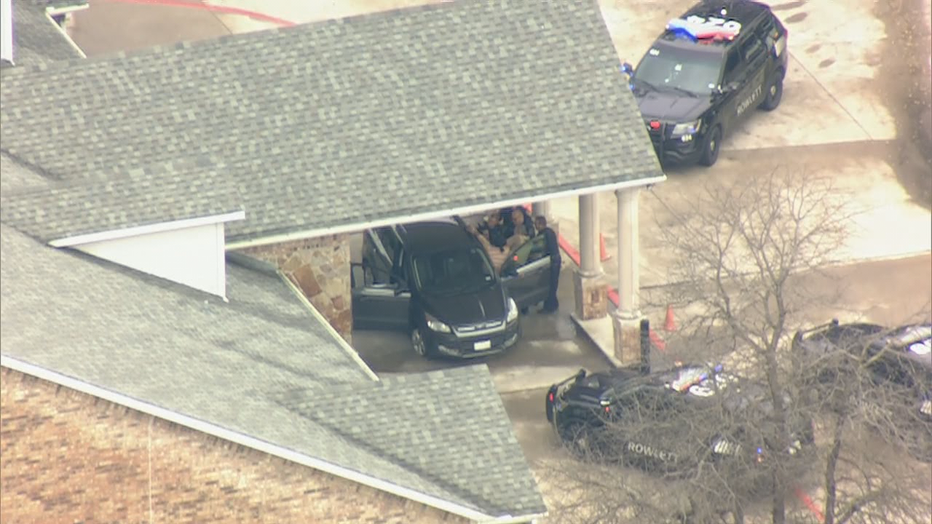 After stopping in the day care portico, officers pulled the woman from the SUV and restrained her. She was placed in the back of an ambulance.
"We attempted to negotiate with her with a crisis negotiator, to get her to unlock the door. She would not unlock the door. She would not cooperate, and at one point, she did pass out. So at that point, Rowlett police officers forced entry through a window and we were able to recover the 4-year old unharmed," Det. Hernandez said.
Her child appeared to be safe with officers.
The chase ended peacefully with no injuries. Police were able to reunite the child with his grandfather.
Police said the woman is being evaluated at the hospital, but may face charges for evading arrest and endangering a child.
They have not released her identity.