Police: Pair posed as utility workers to break into homes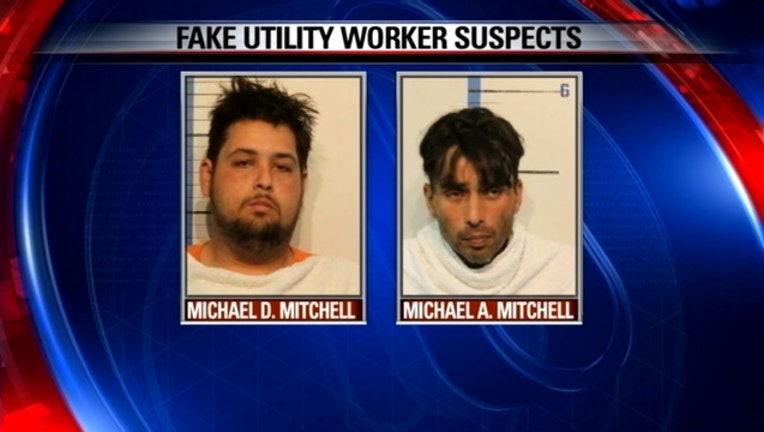 article
Police arrested two men for allegedly posing as utility workers to get into people's homes.
The two suspects are members of the same family who may have crisscrossed the metroplex targeting older victims.
Police in the city of Heath have linked Michael A. Mitchell and Michael D. Mitchell to one of their cases and say other departments have contacted them about similar reports.
Heath detectives say the Mitchells dressed like Oncor workers, wore badges and bullied their way into an 86-year-old woman's home.
Theresa Lindsey has been taking extra precautions ever since two men showed up at her home in Heath and insisted they were from the power company.
"I opened that glass door. He told me what he wanted, to cut the tree, and we discussed it," she said. "I won't ever forget it."
Lindsey says a tall and big man stepped into her house and distracted her as the other man raced to her back bedroom. She says he stole several pieces of jewelry including her husband's wedding ring. They were married for 64 years before he died in 2013.
She didn't notice the burglary until later that evening.
After police put out a warning to the public, Keller police pulled over a suspicious car on April 25. The driver, Michael A., had warrants out of for his arrest. Officers searched the vehicle and found safety vests, badges and jewelry the passengers, Michael A. and Michael D., couldn't explain.
Detective Scott Trammell with Heath's Department of Public Safety says the Mitchells may be behind other crimes.
"That was the key in helping us find out who these guys were," the detective said. "We were able to do a photo lineup and our victim was able to identify them as being the people who came into her house."
Trammell says he believes the pair had been doing this throughout the metroplex for several months.
Police were able recover some of Lindsey's jewelry, including her husband's wedding ring.
"I just never had had anything like that ever happen to me," Lindsey said. "I stay locked up pretty good now."
Oncor says its workers will never come into a house for any reason. They say if someone with a badge ever asks to come in, it's a red flag.
An arrest warrant affidavit for the Mitchells says the men are also suspects in a burglary in Forney.
So, we may hear more about these men in the coming weeks.