Police arrest 18-year-old UTA student accused of stabbing Lewisville mother in random attack
LEWISVILLE, Texas - A Lewisville woman is recovering in a hospital's intensive care unit after what police describe as a random stabbing.
Penny Denney was taking the trash out Monday night, when police said 18-year-old Guadalupe Buenaventura came up from behind her and stabbed her, before running off.
Denney's family said what she did next makes her a hero.
The victim's son said he's very thankful police were able to track down the suspect the next day, but why this attack happened in the first place remains a bit of a mystery.
It was off a suburban neighborhood alley in Lewisville, where a routine errand turned into a near-deadly encounter for the mother of Stephen Denney.
"It's almost just surreal seeing it," Stephen said.
Home security video shows his mother, Penny, taking out the trash at about 6:30 p.m. Monday.
It then shows a man come out from the side of the house and approach her from behind.
That's when police and family say he asked her a question.
"When he comes up to her, she turns around, she sees him. He asks her, 'Hey, have you seen my little girl?' She says no, and then at that time, he stabs her," the victim's son explained.
FOX 4 is not showing the moment she was stabbed.
But immediately after, you see her kick him, and the attacker then runs off.
Denney's family said she then picked up the suspect's phone in the street, before walking inside, not yet realizing she had been stabbed.
"Since he drops his phone, she was able to grab it and then run inside to the house. Actually walk inside to the house, she didn't even run. She walked inside like a boss," her son said. "She got inside the house and told my dad, 'Hey, I think I've been or someone tried to stab me.' You know, 'Call 911,' And at that time, my dad realized that she was stabbed."
She was rushed to the hospital, where she's still recovering, but her family said the prognosis is good.
Within 24 hours, police arrested a suspect, 18-year-old Lewisville resident, and UTA student, Guadalupe Buenaventura.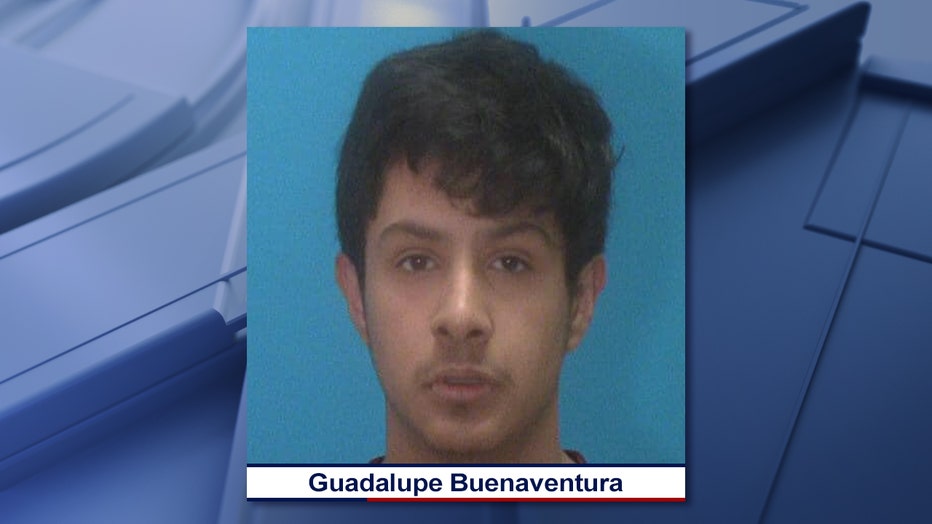 Police still don't know why he did it.
"We do not know a motive at this time. Our detectives did meet with him this morning, but he did not want to talk to them, so we're still waiting to hear his side of the story," said Lynn O'Donnell, with the Lewisville Police Department.
Police said he had approached other neighbors before Denney, with similar questions, but didn't attack.
They said he did not have any connection to those neighbors or Denney.
Police also said they have not uncovered any criminal history.
"As far as we know, this is a random attack," O'Donnell added.
Denney's family is thankful police made a quick arrest.
While police haven't discussed the recovery of the phone, Denney's family believes it was key to helping police track Buenaventura down.
"She is an absolute hero to me. Because she found that phone, because she grabbed that phone," Denney's son said. "Her doing that could have saved somebody else from getting hurt, absolutely. absolutely."
Buenaventura remains behind bars at the Lewisville city jail.
He's charged with aggravated assault with a deadly weapon.