Once sacred, FBI becomes unlikely target of Republican fury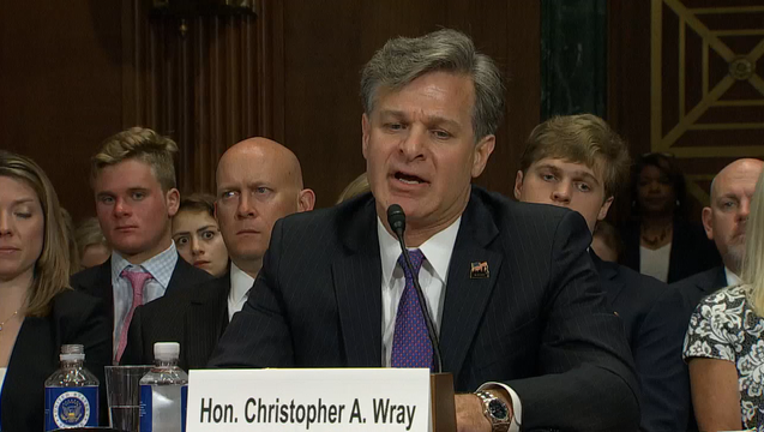 article
WASHINGTON (AP) - It's rare to see the law-and-order Republican Party attack America's top law enforcement agency, which traditionally has drawn more ire from civil rights-minded Democrats.
But as special counsel Robert Mueller's Russia investigation intensifies, President Donald Trump and his GOP supporters have unleashed their fury on the FBI and Justice Department, institutions they once held sacred.
They point to what they see as a number of anti-Trump biases. Democrats say it's an effort intended to undermine Mueller's investigation into possible obstruction of justice and Trump campaign ties to election meddling by Moscow.
A look at the Republican grievances and how Democrats have rushed to defend the FBI and Justice Department:
THE CLASSIFIED MEMO
Republicans claim the FBI and Justice Department used false grounds to conduct surveillance as part of the Russia investigation. A classified memo prepared by Republicans on the House Intelligence Committee tries to make that case. The committee chairman is Rep. Devin Nunes, R-Calif., is a close Trump ally.
Committee Republicans, who hold a majority, voted this week to release the memo. That was unusual move because the committee usually goes out of its way to protect classified information.
Democrats say the memo is a selectively edited group of Republican talking points aimed at sidetracking the committee's own investigation into Russian meddling. They have prepared their own memo in response, but Republicans voted to block its immediate public release.
Trump has signaled that he wants to release the Republican document. The Justice Department is urging him not to do so, a further point of contention with congressional Republicans. On Wednesday, the FBI released its first public statement on the issue, saying it has "grave concerns about material omissions of fact that fundamentally impact the memo's accuracy."
___
THE TEXT MESSAGES
The Justice Department has been turning over to Congress thousands of text messages involving an FBI agent who was removed from Mueller's team following the discovery of derogatory comments about Trump. The communications surfaced during a watchdog's inquiry into the FBI's handling of the Hillary Clinton email investigation.
Many of the texts between the agent, Peter Strzok, and an FBI lawyer, Lisa Page, included their observations of the 2016 election and sometimes colorful opinions of Trump, Clinton and other politicians. Strzok also worked on the Clinton email case; Page left Mueller's team before the texts were discovered.
Some Republicans have seized on the communications as proof that the FBI is anti-Trump and Mueller's probe is tainted. FBI Director Christopher Wray has denied that.
___
HILLARY CLINTON EMAIL
The most pronounced and long-lasting grievance took root in the summer of 2016, when then-FBI Director James Comey announced his determination that Clinton should not face criminal charges in connection with her use of a private email server.
For the majority of his extraordinary public statement at FBI headquarters, Comey appeared to be laying out a case for prosecution on charges of mishandling classified information. He criticized Clinton and her aides for being "extremely careless" with sensitive material. Comey also said that contrary to Clinton's repeated public assertions, dozens of email chains reviewed by agents contained classified information at the time they were sent and received.
Yet at the end of his announcement, Comey contended that "no reasonable prosecutor" would bring such a case in part because there was no evidence that anyone involved had intended to break the law.
The decision infuriated Republicans, not least because Comey appeared to substitute his own judgment in place of that of career prosecutors ultimately tasked with deciding whether charges were merited. Republicans were further angered because the statute that Comey cited did not require criminal intent, even though Comey said the Justice Department had historically required it for prosecution.
Several developments involving senior career FBI and Justice Department officials - among them, Attorney General Loretta Lynch's impromptu airport tarmac meeting with Bill Clinton, and campaign contributions from a Clinton ally that flowed to the wife of FBI Deputy Andrew McCabe - only fueled Republican suspicion that Clinton was afforded special treatment.
Democrats, however, see the exact opposite. They argue that Comey undermined the Clinton campaign by first criticizing her while acknowledging he didn't have a basis for charges, then briefly reopening the investigation in the final days of the 2016 campaign following the discovery of a trove of emails.
___
MUELLER'S TEAM
Republicans also have complained of political bias among the lawyers serving on Mueller's team investigating the Trump campaign and Russia.
One of the more prominent prosecutors on the team, Andrew Weissmann, ran the Justice Department's fraud section in the final years of the Obama administration. The conservative group Judicial Watch said it had obtained an email last year showing Weissmann praising Sally Yates, the former acting attorney general, for refusing to defend Trump's travel ban. That decision led Trump to fire Yates last January.
Several members of Mueller's team have made political contributions to Democratic candidates, including Hillary Clinton. But Mueller could not have barred them from serving on the team. Federal regulations and Justice Department policy prohibit the consideration of political affiliation in hiring and other personnel actions involving career attorneys.
___
URANIUM ONE
Republicans have long expressed suspicion about the sale of Uranium One, a Canadian company with rights to mine U.S. uranium, to Russia's nuclear energy agency Rosatom. They wanted the Justice Department to investigate whether the sale benefited major donors to the Clinton Foundation, raising conflict-of-interest questions.
They've had partial success in their push to drum up attention. The Justice Department advised lawmakers in November that Attorney General Jeff Sessions had directed prosecutors to look into the Uranium One sale and other matters, and make a recommendation on whether a special counsel should be appointed.
It's unclear whether a special counsel will ever be appointed for such an inquiry. Democrats say the criticism is based on false claims and is politically motivated and note that the transaction was approved by Committee on Foreign Investment in the United States, which is composed of representatives from nine government agencies.