Officials: Welding sparks caused fire at Globe Life Field
ARLINGTON, Texas - Fire investigators believe sparks from a welder caused the fire at Globe Life Field on Saturday afternoon, but damage from the blaze won't put completion of the ballpark behind schedule.
The new stadium for the Texas Rangers caught fire just before 2:30 p.m. Saturday. No one was hurt but the flames did cause plumes of smoke and some damage to the fifth floor sub-roof.
Firefighters say the sparks caught fire on cardboard, wood and construction supplies staged below.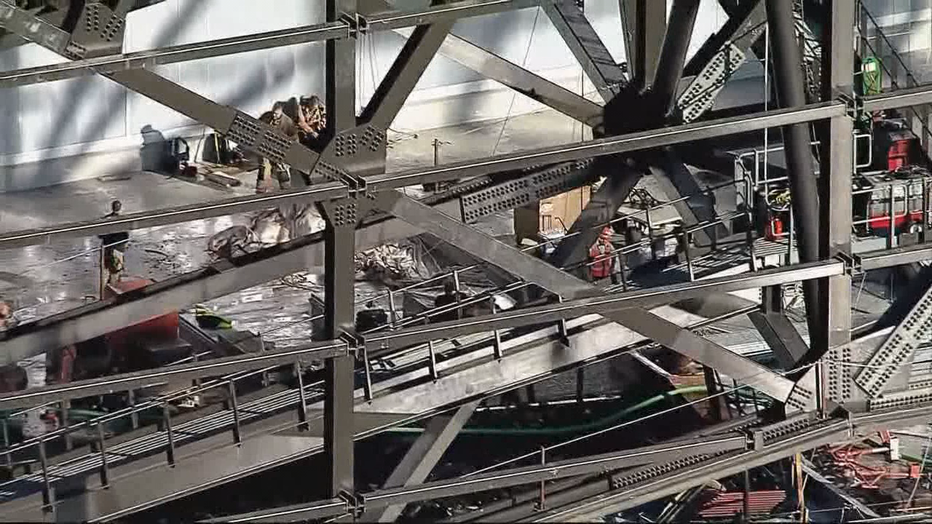 "The damage from the pictures, it looks significant but it's a small area. And in their words, this could've been a lot worse because it was contained within 30-40 minutes," said Lt. Mike Joiner, Arlington Fire Department.
The Manhattan Construction Company said the ballpark would still be ready for March despite the fire damage.
"While a final analysis and report are not available at this time, initial assessments indicate limited replacement of metal decking that was damaged by the fire. Approximately 2,000 square feet of roof area was also damaged. It will be removed, inspected and replaced. Inspections are ongoing and based on what we know today, we do not anticipate any delays to the opening of the stadium," the company said in a statement on Monday.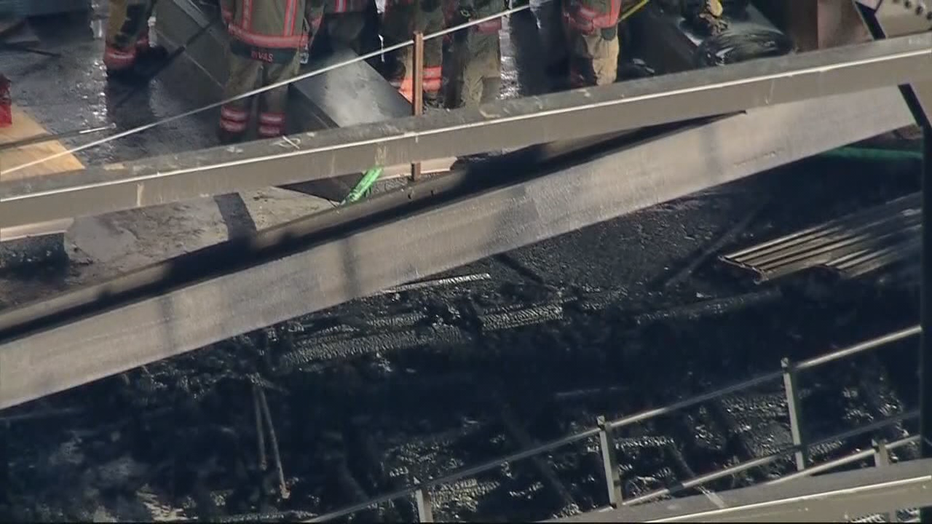 Fire officials say about 40 firefighters responded and regular training inside the new ballpark was key in getting the fire contained quickly. They typically try to get fire crews in for drills every few weeks during each construction phase.
"This is considered a high rise and Arlington in the last few years is preparing to go vertical with the entertainment venues and hotels and high rises, so we've been preparing with equipment and training for this type of event," Joiner said.
Prior to Saturday, the company had reported the ballpark was about 85 percent complete and on schedule to be completed in time for the Rangers to play preseason games in late March.
"It was a little concerning," said Texas Rangers manager Chris Woodward of the fire. "I had a feeling they were going to get it out and everything would be fine but I just worried about the setback."
The Rangers' old stadium, Globe Life Park, is already being renovated to be used as a football/soccer venue for the XFL's Dallas Renegades and USL's North Texas SC.