Parts of North Texas get 1st freeze of the season Monday morning
DALLAS - It's cold Monday morning coming out of the Thanksgiving weekend with wind chills in the 20s. The temperatures also dipped below freezing in parts of North Texas.
Before sunrise, most areas north and west of Fort Worth were at or below freezing while areas from Dallas and east were just a bit above the 32-degree mark. Even after sunrise, everyone in the Metroplex will get wind chills in the 20s.
It's not a crazy chill, just a chill-filled week. Mother Nature is reminding us it's about to be "Meteorological Winter" and it's supposed to be cold.
Gusty, dry winds Monday morning are expected to diminish by the afternoon. The sun will boost the temperature back to near 50 degrees later in the day. It will by chilly, but nice.
The coldest morning will be Tuesday. With lighter winds and clear skies, all of the Metroplex will drop below freezing. How far below depends on location. South winds (6-12 mph) will develop overnight and with temperatures aloft close to 40 degrees, areas that are "mixed" will just be a bit below. Sheltered locations could easily drop into the mid-20s.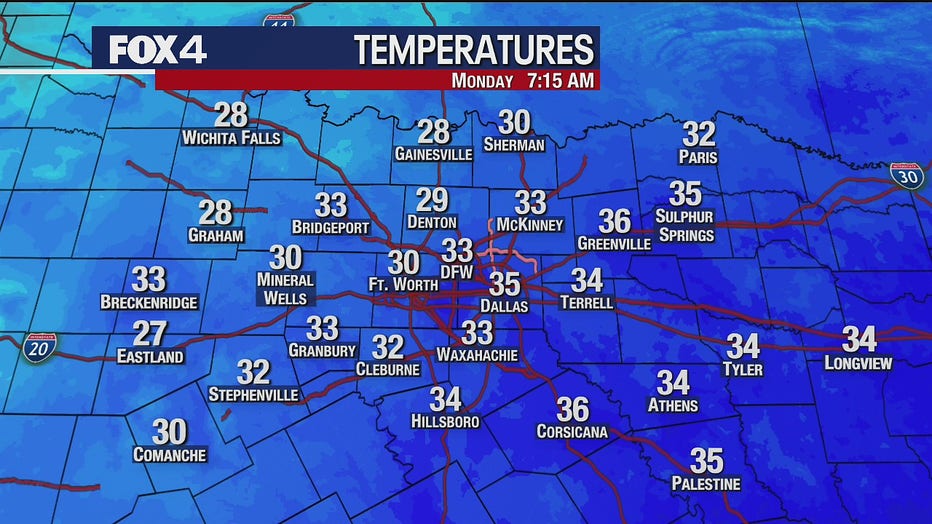 Tuesday will start cold but quickly moderate as gusty afternoon winds from the south kick in (up to 25 mph). There may be a few clouds, but the temps will still head back to near 60, which is "normal" for Meteorological Winter. It's not the REAL winter (Dec. 21) but it's the three coldest months of the year (December, January and February).
The next fast-moving weather system will arrive Wednesday morning. There's a lot of lift and moisture will try to return ahead of it. However, a fast-moving cold front will push through by noon. That basically means the best chance for showers will be for areas east of Dallas. There's a low chance in the Metroplex and it looks dry to the west. Gusty northwest winds in the afternoon will ensure another day of below-average temps.
As a low pressure system sets up north of North Texas Thursday, cold, dry air will continue to filter in. Even with a fair amount of sunshine, Thursday may not get back to 50 degrees. And Friday should start below freezing, before bouncing back into the low 50s. It will still be fairly chilly.
By the weekend, south winds will start to return so temps should rebound closer to early December normal – in the upper 50s Saturday and low 60s Sunday.