North Texans prepare for possible sleet and snow on Wednesday
FORT WORTH, Texas - The threat of a wintry mix has road crews and school districts across North Texas keeping a close eye on the forecast.
FOX 4 Weather meteorologists believe the conditions will be right for snow or a winter mix of precipitation overnight and into Wednesday morning, mainly in the areas northwest of the metroplex. Dallas County and other areas east of the metroplex may just see some sleet and cold rain.
The National Weather Service's winter storm warning includes Montague, Jack, Palo Pinto and Eastland counties. The winter weather advisory includes Tarrant, Denton, Grayson, Cooke, Wise, Parker and Hood counties.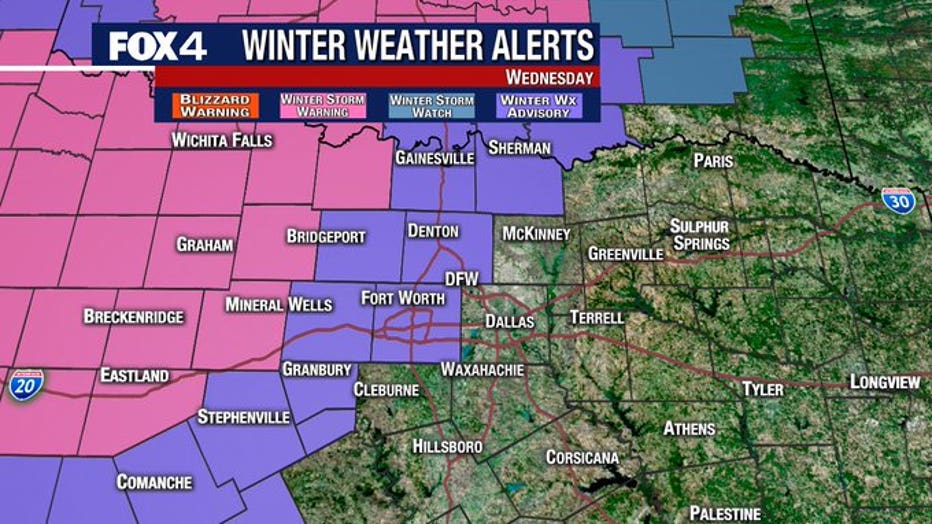 The chance of freezing rain and sleet prompted several area school districts to call off or delay classes on Wednesday. One district that made the decision to close was Weatherford in Parker County. Administrators made the call well in advance to get ahead of the weather threat.
"It is nice that they call it early, just so parents can make any arrangements that they need for their kids. Make sure that everybody is taken care of ahead of time," said parent Iris Gomez.
In a statement, the district explained what goes into the decision besides the forecast, which includes rural bus routes and whether buses can travel safely, as well as parking lot and sidewalk conditions.
"I think it's a good thing they called it now. They could've waited til 4, 5 in the morning to see if the storm is actually going to move in. If there's any kind of precipitation it can get nasty in a hurry," said parent Sammy Ellison.
Sammy Ellison's 11-year-old son, Hayden, had a much more childlike response to no school.
"Awesome!" he said.
Parker County government offices will also be closed Wednesday.
Fort Worth ISD said it is working closely with meteorologists from the NWS, relying on their forecast of weather conditions to make the best call for students and staff. With 143 campuses, the district has a lot to keep in mind.
"One can you get enough bus drivers to come in easily. Then if you start losing buses because the roads are slick then you have a real problem and you don't get some kids delivered home. You may get them home later than they normally get there. So it's a very tricky call," said Clint Bond, a spokesman for Fort Worth ISD.
In nearby Wise County, school administrators are in the same position. Decatur ISD has around 3,400 students across six campuses. And with it being a rural community, many kids rely on the buses to get to school.
The district said it plans to let parents and staff know of any delays or cancellations by 6 a.m. Wednesday.
"We're closely monitoring the situation. We're watching the weather, talking to other school districts. We're talking amongst ourselves about all of the possibilities that could happen on Wednesday," said Sally Rodgers, Decatur ISD's spokeswoman.
When it comes to treating the roads, the Texas Department of Transportation got a head start on Monday.
Close to 50 trucks from the agency went out to spray a brine solution on the highways, bridges and overpasses. That is done early to keep to keep any precipitation from sticking to the roads and freezing once it falls.
"We're applying a brine, which is a salt and water mixture. We're spraying it on those elevated surfaces and we want that to dry," said Val Lopez, a spokesman for TxDOT. "That's what we're trying to avoid here. We don't want ice bonding onto the bridge decks and the brine really helps that out."
Once the winter weather arrives, TxDOT will start applying sand and a salt-based de-icer to keep the roads safe.
Eventually, crews will transition to operating 24 hours a day until the winter weather clears out.
At the Fort Worth Fire Department, firefighters are ensuring every truck and engine has a complete set of tire chains and ice melt for EMTs on foot.
"If there is an area that's really slippery that we can't get around, we can throw some of this ice melt down. And it gives us a way to walk them safely to wherever they're taking them," said Mike Drivdahl, Fort Worth Fire.
Drivdahl said FWFD also has six four-wheel drive brush trucks ready to be stationed around the city for possible rescues.
"We'll pair those up with a police officer and our brush truck to be able to go out and pull people off of an overpass that might be a dangerous place for them to be stuck," Drivdahl said.