North Texans line up outside retail stores to land Black Friday deals amid inflation
DALLAS - The growing popularity of online holiday shopping is still not enough to kill a post-Thanksgiving tradition.
Inflation is pushing many North Texas shoppers to look for deals this week.
For budgets squeezed by higher prices for food and other essentials, waking up early and braving the crowds was worth it. 
From lines at Best Buy to crowds at Target before dawn, inflation isn't stopping shoppers, but it does have them looking for the best deals. 
Shoppers lined up before dawn Friday at several major retailers in North Texas. 
Best Buy in Dallas opened its doors at 5 a.m. Many of those in line said the PlayStation 5 is the hot item.
Shoppers said they'd rather get their hands on it in person even if the same deal is available on a website.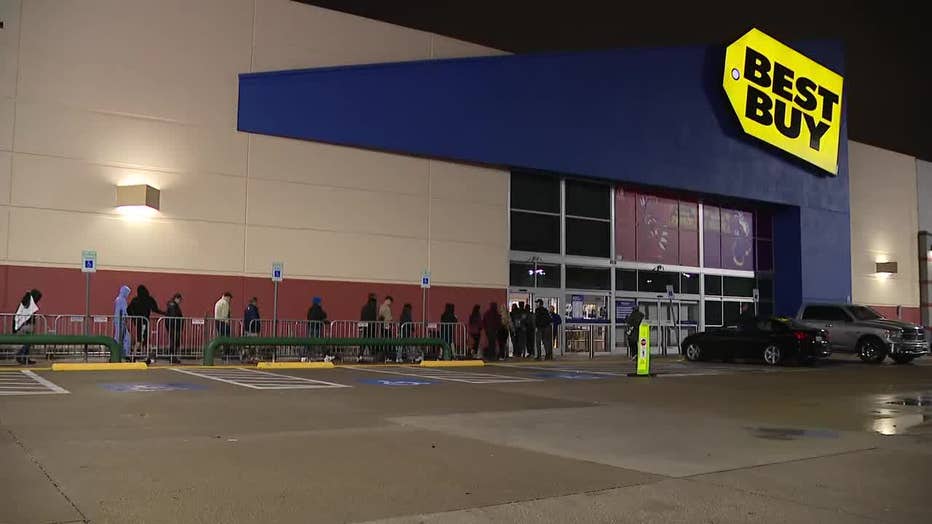 "It's cold out. We're having a good time. There's great deals," said shopper Sean Maloy. "There's something about going in the store, picking it out, kind of beating the crowd, figuring out how you can take advantage of it and really just finding the best deal for yourself."
At Academy Sports & Outdoors, shopper Leslie Sims says she normally doesn't shop on Black Friday, but the need for discounts drove her to it. 
"Even 20% off on something will allow me to pay my rent, so I will come for a 5 a.m. sale in the middle of the morning because my niece wants something good for Christmas," she said.
While major retailers kept with their new pandemic-era tradition of staying closed on Thanksgiving, retailers said people still did a lot of bargain hunting from home. 
At Galleria Mall, shoppers were also mindful of their bottom line. 
Many retailers like Apricot Lane are continuing to offer steep discounts, despite cost increases.
"The whole store is 40% off, which is a rare occasion for us," said Breiana Lacaze with Apricot Lane Boutique.
Angie Freed, general manager of Galleria Dallas, says this year they are continuing to focus on free experiences for consumers. 
"We want people to feel the holidays added to the decor, enhanced Santa experience and added snow in what we call the alley front entrance to our building," she said.
Inflation was soaring at this same time last year, becoming entrenched on the way to record highs.
But Freed says at least this year supply chain issues are much better than last year.
"That is not as impactful this year," she said. "They have good inventory. They're able to offer the sales, which benefits the consumer."
Consumers are expected to spend about $830 this holiday season.