NJ father hopes to educate parents after discovering son with autism is lonely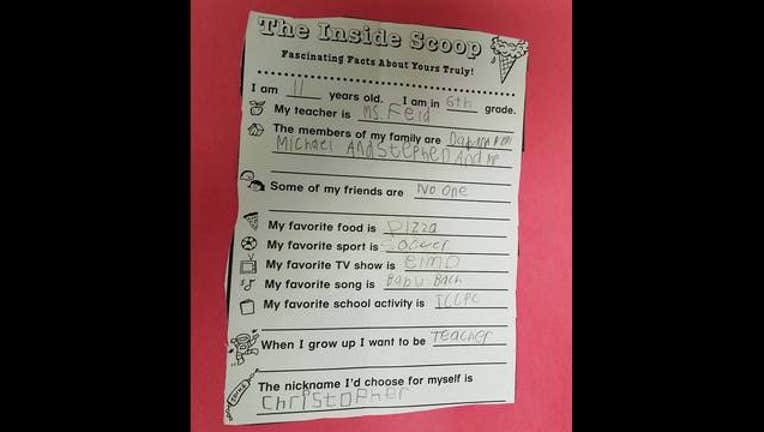 article
Rockaway, NJ (WTXF) - A New Jersey father shared a heartbreaking open letter on Facebook after he saw his son's Back to School project and realized how lonely the boy was. 
According to Bob Cornelius, his son 11-year-old Christopher is on the autistic spectrum.  Bob recently went to his Back to School Night  and took a picture of one of his projects displayed on the wall, which asked the students to list their favorite foods, sport, TV shows, etc. Bob said he took the photo quickly and didn't notice Christopher's answers until he arrived home. When he saw his son's answers he was left stunned and heartbroken. 
The photo shows when Christopher was asked who some of his friends were he responded, "NO ONE."
The father said that Christopher saw his brothers over the years have sleepovers and wanted one of his own. However, when he was asked who he wanted to invite he never had an answer. His father wrote:
"Because he didn't have a friend.
He's never had a friend.
Ever.
He just turned eleven.
And because he's had no friends....there was no one to invite."
Bob also made a plea to parents to educate their children. He said in part:
One: Share this post on your time line. Awareness and empathy are the only solutions I can come up with.
Two: Speak with your children. Show them the video of the Florida State Football player. The Internet is full of feel-good stories about a special needs child being included. Remember the special needs child that was put in the basketball game for the last few minutes of the final game of the season? Very recently, there was the prom king who gave his crown to a special needs classmate."
Read his full post below.