New Orleans police officer killed while transporting suspect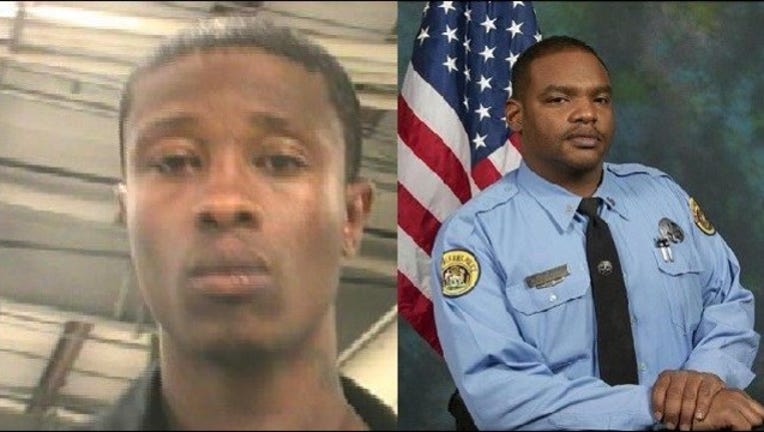 article
An intense manhunt was underway in New Orleans on Saturday for a prisoner who managed -- while handcuffed in a police vehicle -- to shoot and kill an officer and then escape, authorities said.
The New Orleans Police Department said Officer Daryle Holloway, 45, was shot while transporting Travis Boys from the police department to the Orleans Parish Prison.
After the shooting, the vehicle crashed into a utility pole, and Boys fled, according to police. Emergency medical teams soon arrived at the scene and found Holloway in the front seat of the vehicle with an apparent gunshot wound. He was taken to a local hospital, where he died a short time later.
A manhunt was underway for the 33-year-old Boys, according to Police Chief Michael Harrison.
"He will be caught and he will be brought to justice for the murder of Officer Holloway and for this assault on our entire community," Harrison said in a police department statement.
Boys was handcuffed in the back seat of the vehicle but "somehow" managed to get his hands from behind his back to the front and obtain a weapon as well, Harrison said separately in a video interview posted on the department's Facebook page.
Boys managed to get to the front seat through an opening in the cage that separates front and back seats and shot Holloway, Harrison said.
"Officer Holloway put up a fight to try to get the subject to not exit the vehicle but succumbed to his injuries," Harrison said.
Department spokesman Tyler Gamble said police were trying to determine what weapon Boys used and how he obtained it, but do not believe Boys used the officer's gun.
Traffic near the scene of the shooting was backed up for blocks as investigators searched for evidence.
Regional and state law enforcement agencies, along with the U.S. Marshals Service, were searching for Boys, who was arrested on an aggravated battery charge and outstanding warrant. The statement said Holloway was not the arresting officer.
Holloway had been a member of the New Orleans Police Department since 1992. He was the father of three children.
Mayor Mitch Landrieu decried the killing as "the lowest of the low."
"Killing an officer in the line of duty is an attack on our community that will not stand," Landrieu said in a statement. "The heart and soul of New Orleans is heavy today as our community mourns one of our city's finest."
The last city officer killed in the line of duty was Officer Rodney Thomas on July 7, 2013, according to Gamble.