More rain, flooding forecast along soggy East Coast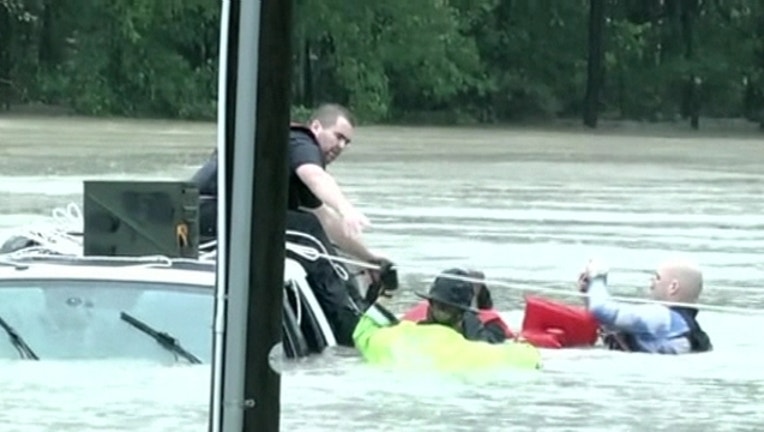 article
CHARLESTON, S.C. (AP) — While spared the full fury of Hurricane Joaquin, parts of the East Coast saw record-setting rain Saturday that shut down roads, waterlogged crops and showed little sign of letting up.
Much of the drenching was centered in the Carolinas, but coastal communities as far away as New Jersey were feeling the effects of unrelenting rainfall. Rain and flood warnings remained in effect for many parts of the East Coast through Sunday. At least five weather-related deaths have been reported.
President Barack Obama declared a state of emergency in South Carolina and ordered federal aid to help state and local efforts.
Three people died in three separate weather-related traffic incidents in South Carolina since the heavy rains began, the state's highway patrol said, including two motorists who lost control of their cars and a pedestrian hit by a car.
Once the rain ends, the flood threat persists because the ground is too saturated to absorb water, meteorologists say. And high winds could topple trrees like the one that hit a vehicle near Fayetteville, North Carolina, killing a passenger. The storm also has been linked to a drowning in Spartanburg, South Carolina.
Downtown Charleston was closed to incoming traffic Saturday as rain flooded roads and left some motorists stranded as flood waters engulfed their cars. At least two bridges were washed out in other parts of the state.
"Where we normally are dealing with flooding for a few hours, we're dealing with it in days here," Charleston Police Chief Greg Mullen told The Associated Press. "We're seeing areas flood today that did not traditionally flood."
Several shelters were opened in coastal counties while health officials warned people not to swim or play in the flood waters. The South Carolina Emergency Management Division said its command center was open and running 24 hours a day for as long as the flood threat remains.
Inland areas of South Carolina also were battered by rain. In Columbia, which is in the middle of the state, business owners spent Saturday caulking and duct-taping windows and readying sandbags.
"I know it's going to be a sleepless night," said Kelly Tabor, owner of Good for the Sole shoe store.
The Greenville-Spartanburg Airport in South Carolina recorded 2.3 inches of rain Saturday, smashing the previous record of 0.77 inches set in 1961, according to John Tomko, National Weather Service meteorologist at Greenville-Spartanburg.
"This one is extraordinary in that it's such a prolonged event," he said.
In North Carolina, Agriculture Commissioner Steve Troxler says farmers are starting to see the impact of the continuous rain on their crops. Apples in Henderson County are starting to split open because they're waterlogged and farmers can't get into the fields to harvest other crops.
"I had one farmer tell me this is like getting all of your cash assets, put them on a clothesline, waiting for the wind to blow them away," he said.
Flooded roads were closed throughout the mid-Atlantic region and power companies reported scattered outages in several states.
In New Jersey, storms dislodged an entire house from its pilings in a low-lying area of Middle Township in southern Jersey. No one was in the residence.
The National Weather Service in Greenville, South Carolina, said that "bursts of heavy rain are likely" in the Carolinas and parts of northern Georgia that could cause some rivers and streams to flood significantly.
The rain levels had the potential to be "life threatening and historic," the service said on its website.
Flood watches and warnings also are in effect in Delaware and parts of New Jersey, Maryland and Virginia.
The weather service issued a warning for residents living along the coast to be alert for rising water. A combination of high water and high waves could result in beach erosion and damage to docks and piers.
Still, the Atlantic Seaboard was spared what could have been much worse damage had Hurricane Joaquin not continued on a path well off the U.S. coast. And some people found ways to enjoy the wet weather Saturday.
Steven Capito spent the day surfing by the Ocean View Fishing Pier in Norfolk, Virginia, where two- to three-foot waves crashed ashore. Ordinarily, he said waves from the Chesapeake Bay would barely lap his ankles.
"It's kind of a fun novelty to be out here in the bay," said Capito, who lives in Virginia Beach. "You only get to do it a couple of times a year and it's nice and warm."
___
This story has been corrected to show that bridges were not washed out in Charleston.
___
Smith reported from Charleston and Foreman from Charlotte, North Carolina. Contributing to this report were Associated Press journalists Alan Suderman in Richmond, Virginia, Brock Vergakis in Norfolk, Virginia; David Dishneau in Ocean City, Maryland; Bruce Shipkowski in Trenton, New Jersey, Chuck Burton in Charleston and Julie Walker in New York.