McDonald's ditches healthier McWraps, considers all-you-can-eat fries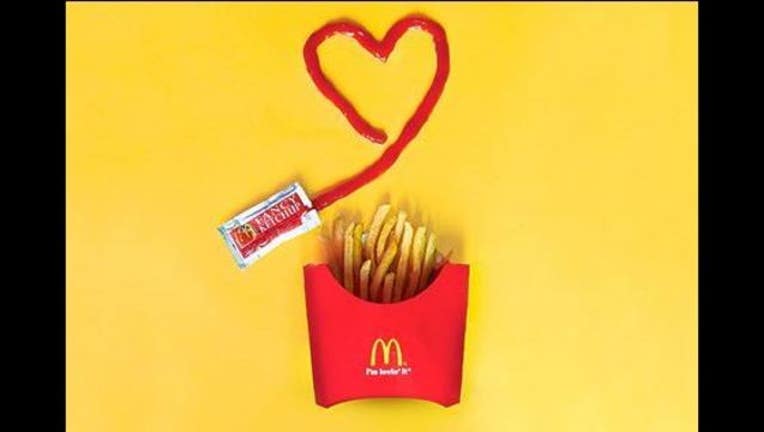 article
(FOX 11 / FOX News) - After a few years of lackluster sales, McDonald's is realizing that sticking to what it knows best is key to the brand's success.
Earlier this week, the chain announced that it had scrapped Premium McWraps from restaurant menus nationwide. The tortilla wraps, filled with items like grilled chicken and veggies, were meant to appeal to younger, health-conscious customers.
Spokeswoman Lisa McComb told Bloomberg that the company began phasing out both the large and snack-sized versions last summer at the 14,000 plus U.S. McDonald's locations. A few select markets still have the chicken ranch snack wrap on the menu.
Many of the McWraps, introduced in 2013, had fewer calories, leaner meats and more greens than typical McDonald's fare. According to Bloomberg, an internal memo called the item a "Subway buster"-- as a possible way to combat the sub chain's growing popularity.
But the wraps proved to be more of a headache than a boon to business, says one analyst.
"A lot of people who eat at restaurants aren't interested in health and wellness," Jack Russo, an analyst at Edward Jones, told Bloomberg. "You've got to give the people what they want."
Health-conscious wraps may be out—but more fries are in.
A franchise owner in Missouri has laid out plans for a new 6,500 square foot McDonald's that could be the "largest in the region," reports  St. Joseph's News-Press. The new restaurant would have kiosks that allow you to customize burgers, desserts—and serve up all-you-can-eat fries. The franchise owner has not announced how much the never ending fry option will cost customers—but we're guessing it will be popular with the late night crowd.
Most recently, McDonald's has enjoyed renewed success after rolling out all-day breakfast nationwide. The chain began offering its McMuffins, pancakes and more full time in October. At first, franchisees appeared annoyed with the extra labor involved in offering so many menu items at once—but breakfast has boosted most same store sales over the past two quarters.
McDonald's CEO Steve Easterbrook has been on a mission to simplify restaurant menus, quicken up the chain's cooking processes and improve order accuracy. Other complicated items like grilled onion cheddar burgers and buffalo ranch McChicken sandwiches have been axed in the process.
Copyright 2016 FOX 11 Los Angeles : Download our mobile app for breaking news alerts or to watch FOX 11 News | Follow us on Facebook, Twitter, Instagram, and YouTube. Be a citizen journalist for FOX 11 and get paid – download the Fresco News App today.