Massive, 3-mile-wide 'potentially hazardous asteroid' will zoom past Earth tomorrow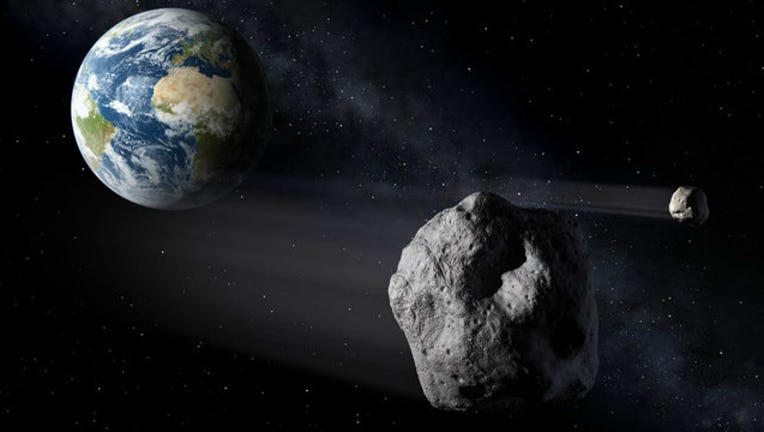 article
(FoxNews.com) - An enormous, 3-mile-wide "potentially hazardous asteroid" is hurtling toward Earth and is slated to zoom past the planet tomorrow, but scientists say there is no need to worry.
Known as 3200 Phaethon, the space rock orbits the Sun and is expected to come the closest it has come to Earth since 1974, 6.4-million miles away, according to a statement from NASA.
There is no chance the asteroid will hit Earth and won't come this close again until 2093. Despite that, it has been classified as a "Potentially Hazardous Asteroid" by the Minor Planet Center, NASA added in the statement.
NASA said that the asteroid is "potentially detectable at Goldstone [a NASA communications complex] for about three weeks and tracks are scheduled on ten days between Dec. 11-21." The government agency said that it will also remain visible at the Arecibo observatory, located in Puerto Rico, between Dec. 15 and Dec. 19.
3200 Phaethon is thought to cause the annual Geminid meteor shower, which this year reached its peak this past Thursday.
Astronomers almost unanimously agree that no asteroid, particularly those of the near-Earth variety, will hit our planet in our lifetime. However, if one of this size were to hit us, it could cause some serious damage. 
Boston University astronomy professor Michael Mendillo told Time that 3200 Phaethon "would be this kind of object that would cause a catastrophic collision, should there be one," before adding that it is highly unlikely. 
Scientists have said they "can't rule out" a potential collision with the asteroid 99942 Apophis, but that is not slated to come very close to Earth until 2029.
This is not the first time in recent memory an asteroid of this size whizzes past Earth.
In August, a 2.7-mile wide asteroid dubbed Florence passed by Earth at a safe distance of 4.4 million miles, roughly 18 times the distance between Earth and the moon.
In October, 2012 TC4, a space rock estimated to measure between 50 and 100 feet, passed safely past Earth by 26,000 miles and was used to test Earth's international warning network.
Plans to save humanity
If an asteroid were to ever threaten the Earth, NASA has a plan to fight off "possible life-threatening" asteroids.
In June, the agency unveiled a video using 3-D modeling techniques and one of its supercomputers in an effort to produce simulations on a variety of asteroid impact scenarios. This allows first responders and other agencies to identify threats and make better decisions should an event occur in the future.
The work is being done by experts on the Asteroid Threat Assessment Project at the NASA Advanced Supercomputing facility at Ames Research Center in California's Silicon Valley. The efforts are in conjunction with NASA's Planetary Defense Coordination Office. 
The research has been shared with a number of different parties, including university scientists, national research labs and different government agencies.
The work follows an asteroid collision in 2013 in the Russian city of Chelyabinsk. The blast from the asteroid injured more than 1,200 people and damaged building 58 miles away.
Separately, in 2016, NASA opened a new office to track asteroids and comets that come too close to Earth, known as the Planetary Defense Coordination Office (PDCO).
The PDCO formalizes the agency's existing program for detecting and tracking Near-Earth Objects, known as NEOs. 
NASA has been studying NEOs since the 1970s. According to the PDCO, NASA-funded survey projects have found more than 95 percent of the known catalog of over 15,000 NEOs.
More on FoxNews.com.