Maserati driver flees after injuring off-duty police officer at Dallas construction site
DALLAS - A police officer was injured when his squad car was struck in a hit-and-run crash on 635 in in Dallas Friday morning.
The officer, from the Edgewood Police Department in Van Zandt County, was working an off-duty job blocking traffic to protect contractors improving highway infrastructure.
A Maserati slammed into the back of his police car on the eastbound LBJ Freeway at Plano Road.
The driver of the Maserati fled the scene in another vehicle, and Dallas police are now looking for the man behind the wheel of the car that caused the wreck.
The officer, identified as J.D. Morris, was taken to the hospital. He will survive, but authorities said it could have been much worse.
"He's got four cracked ribs, concussion, lacerations to the leg, contusions on his chest, head, and back, and a sprained shoulder," Edgewood PD Lt. Robert Dearing said. "He's doing pretty well, all things considered. He's up talking, conversing with us and cutting up with the nurses."
All eastbound lanes of the freeway were closed for several hours while police investigated the crash.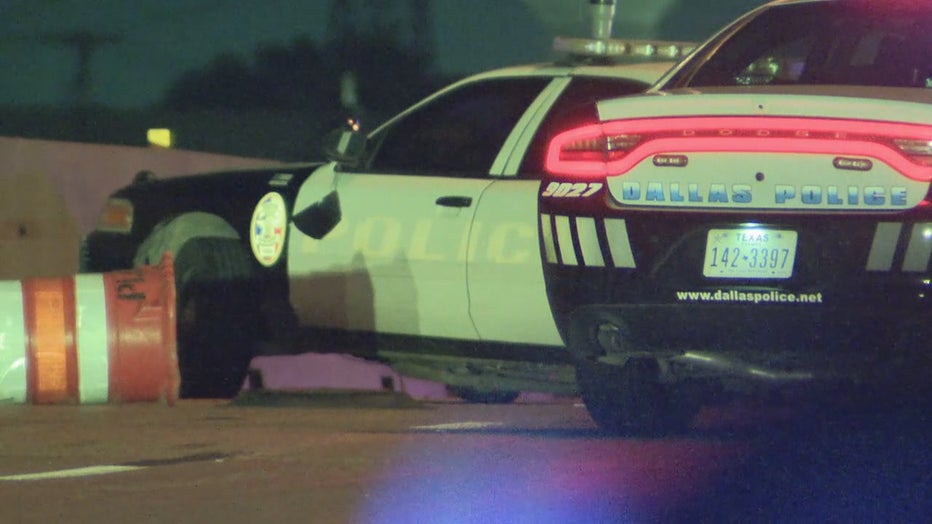 Morris was working off-duty protecting construction workers on 635. 
His squad car was parked at an angle, when the 2020 Maserati slamming into the squad car at a high rate of speed.
The driver got out of the high dollar car and then into a car with someone who stopped and picked him up. They didn't check whether someone was hurt.
"[The officer] saw it, right, but didn't have a chance to take any action or anything else," Dearing said. "He said he reached for his gear shift to try to move his vehicle, but he was hit before he had a chance to do anything."
The work on the $1.4 billion LBJ East Project was being done overnight when traffic is lighter
"There is that trade-off, and that concerns us with work zone safety. We got cars going through at high speeds overnight and so we really ask for people to be extra careful whenever they are going through a work zone," said Tony Hartzel, with the Texas Department of Transportation.
Last year, Texas saw more than 22,000 crashes in roadway construction and maintenance work zones.
"We put up barrels and cones in proper places to give people advance notice, put out those arrow trucks, and even crash trucks that are at the end of these lane closures so that our workers can work safely," Hartzel said.
TxDOT just launched an awareness campaign in April. It's called "be safe....drive smart."
In the pandemic, with fewer people on the road, there were 186 deaths from crashes in roadway construction and maintenance work zones.